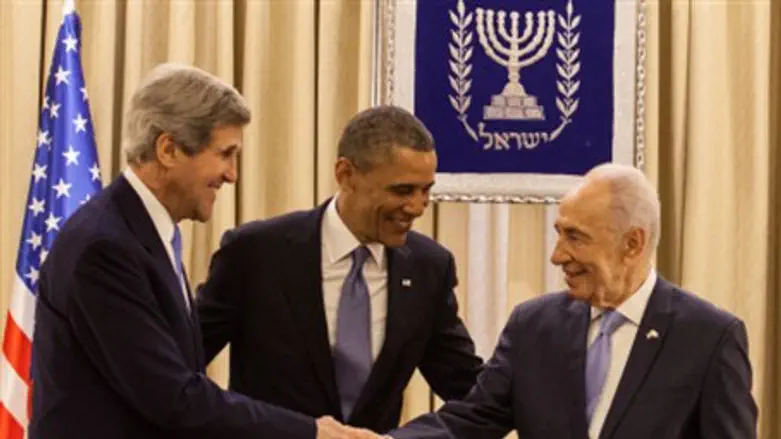 John Kerry, Barack Obama and Shimon Peres
Flash 90
A source close to US President Barack Obama and US Secretary of State John Kerry has said the two are "uncomfortable" with what he terms "Jewish activity in Congress," which they apparently see as being orchestrated by the Israeli government.
The source has told officials in Israel that the two American leaders are "disappointed" by criticism of the government by Jews in the US, reports Israel Radio.
Some Israeli diplomats have been trying to stifle criticism against the US of late.
After Defense Minister Moshe Ya'alon called Kerry "obsessive" and messianic" in his push for an Israeli-Palestinian Authority (PA) peace deal, in which he reportedly is manipulating European boycotts to pressure Israel, Labor party head Yitzhak Herzog lashed out against the "hurtful diatribe."
If the reports on Obama and Kerry's "disappointment" are true, the two have adopted a stance very close to the shrill charges of a "Jewish lobby" controlling Congress, which some see as bordering on the "Protocols of the Elders of Zion" libel in its distorted portrayal of Jewish domination.
In response to the "discomfort" over Jewish criticism, Mark Langfan, Chairman of Americans For a Safe Israel (AFSI) and a vocal critic of the Obama administration's Middle East policy struck back. "My parents taught not just to falsely echo 'never again,' but to act on 'never again'," he retorted.
Referencing the recent statements by Obama over the weekend in which he claimed marijuana was no more dangerous than alcohol and acknowledged smoking the drug in his youth, Langfan quipped "Obama must be still smoking pot if he thinks Israel is telling me what or what not to write."
Langfan has been working on creating maps illustrating the indefensible nature of Kerry's peace plan, and exposing the mistaken logic motivating the plan. After the latest Kerry-Ya'alon exchange, he "reminded" Kerry of the security threat posed by Israeli withdrawals from Judea and Samaria.
"I deeply believe after 27 years of topographic and military study that Obama is creating a Holocaust 2.0 and I believe Obama's destruction of Israel is not only bad for 6 million of my co-religionists, but catastrophic for American national security interests," concluded Langfan.