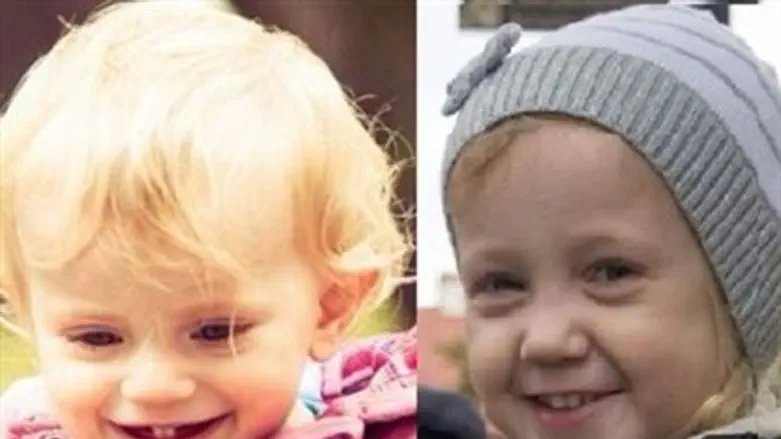 Avigayil and Yael Gross, z"l
Courtesy of the Gross family
Michael and Yitzchak Gross, ages 7 and 5, remain in extremely serious condition Thursday following the tragedy that killed their two young sisters.
The Gross children were made critically ill by a highly toxic pesticide left in their family's home by an exterminator. There is no antidote to the poison.
Doctor Efrat Baron-Harlev, the Deputy Director of Schneider Children's Hospital, told Arutz Sheva that while the situation remains serious, there is reason to hope. "Within the category of 'serious,' their condition remains relatively stable," she said.
The two boys were moved to Schneider Hospital from Jerusalem's Shaarei Tzedek Hospital so that doctors could make use of advanced technology that essentially replaces the function of their hearts.
"Each muscle is an organ that takes a lot of energy, especially the heart, which is constantly working and has special cells," Dr. Baron-Harlev explained. "The poisoning affects the function of the cells that operate the heart, and shuts them down almost completely, and that is what causes death."
"The two brothers received excellent care at Shaarei Tzedek. That is what allowed us to successfully reach a point of replacing their hearts' activity," she continued, adding, "We hope they will recover."
Doctors are doing everything they can, she said, but since there is no antidote at this point there is nothing to do but to wait and hope the it will pass quickly from the children's bodies.
Children "can recover from extreme situations," she said, but added, "We cannot be highly optimistic in a situation like this. But there is a chance for recovery."
The two young boys have had names added, in accordance with Jewish tradition in situations where a person is critically ill. The public has been urged to pray for the two using their Hebrew names, Raphael Yitzchak Isaac ben [the son of] Michal and Chaim Michael Shlomo ben Michal.