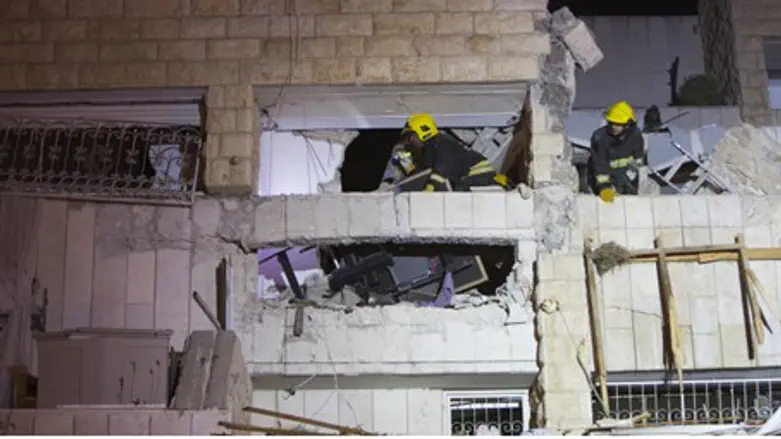 Aftermath of gas explosion in Jerusalem
Flash 90
Twenty four families in the Jerusalem neighborhood of Gilo are homeless in the wake of the major gas explosion in an apartment building earlier this week. The families are currently staying in hotels, but they fear that they will be on the street next week; according to the community officials who arranged for them to stay at the hotels, they are going to have to make other arrangements by Sunday.
Speaking to Arutz Sheva, Yaffa Sheetrit, head of the Gilo community organization, said that the law does not require the state to pay for long-term housing for the victims of the explosion, because it wasn't a natural disaster or terror attack. "We and the Jerusalem municipality are seeking ways to help them so they can return to their normal lives. We have advised them on their options, with the best one renting apartments."
The blast, Sunday night, killed three people, including a two-year-old baby. The blast occurred on the third floor of a four story building in Gilo. Magen David Adom reported that 11 people were injured in the explosion, including a 60-year-old woman in serious condition, a man in his 80s who suffered moderate injuries, five people who were lightly injured, and two victims who suffered trauma.
More than 100 families who suffered personal or property loss in when the gas-balloons exploded Sunday met Tuesday to discuss a class-action suit against Supergas. Sheetrit said that the lawsuit would almost definitely be filed. "No one is taking responsibility for the damage to these families, many of whom have lost everything," she said. "We are doing our best to help, gathering donations. Half the families had no insurance on their apartments. There was definitely negligence here, and the families have already spoken to some of Israel's top lawyers about representing them."
The money to put them up in hotels is slated to run out Sunday, Sheetrit said. "Some of them were paying mortgages on the destroyed apartments, so until an insurance settlement comes through they are going to have to pay the mortgage and rent on an apartment. One option is for them to take a loan to cover their expenses and then pay it back with a settlement from the gas company, but each family is going to have to decide what is best for it.