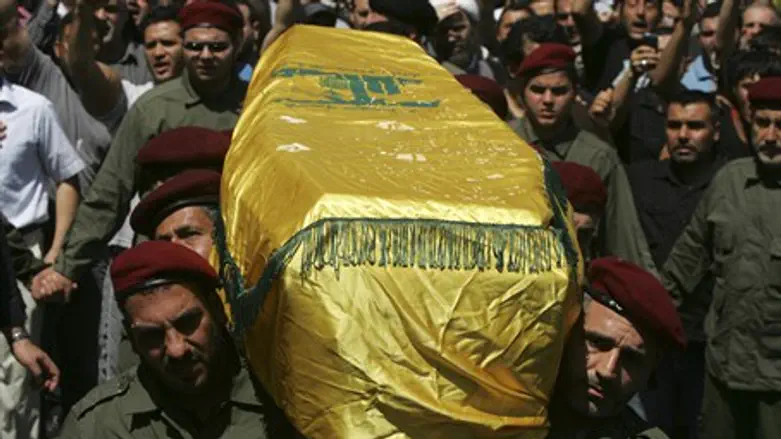 Burial of Hezbollah fighter killed in Syria
Reuters
The Lebanese branch of the Nusra Front - an Al Qaeda-linked rebel group fighting in Syrian - has claimed responsibility for today's deadly bombing in Beirut.
The attack killed four people and left 34 more wounded
In a statement posted in Arabic on Twitter, the Nusra Front in Lebanon said the attack on the Haret Hreik district - a Hezbollah stronghold - was a suicide bombing, and confirmed suspicions it was carried out in response to the Iranian-backed terrorist group's involvement in the Syrian civil war in support of the Assad regime.
"We were able to respond to the massacres committed by Iran's party [Hezbollah] against the children of Syria and of Arsal with a suicide operation that targeted the heart of its southern suburbs. We call on the Sunni community in all Lebanese areas to unite their ranks to confront the party of the devil," said the statement, as translated by Lebanon's Daily Star.
The group attached pictures of dead Syrian children to the statement, illustrating the role Hezbollah has been playing in the brutal civil war which has killed over 130,000 people since March 2011.
Meanwhile, a video has emerged showing the moment the explosion took place.
The Nusra Front has pledged allegiance to Al-Qaeda chief Ayman al-Zawahiri and has been blacklisted by the United States and the United Nations as a terrorist group.
The group was formed in January of 2012 with the purpose of fighting Syrian President Bashar Al-Assad's forces and establishing an Islamic Caliphate in Syria.
The Nusra Front in Lebanon has claimed several previous attacks in Lebanon, including rocket attacks and another recent car bomb in the Hezbollah-dominated Bekaa Valley. It has also claimed responsibility for a car bomb attack in Beirut at the start of the month which killed four people.
Since publicly declaring its active role in fighting Sunni rebels in the Syrian civil war, Hezbollah has seen its interests targeted repeatedly by Sunni Islamist groups, marking a sharp fall from grace for a terrorist organization which once enjoyed broad support from Sunni and Shia Muslims alike for its attacks on Israel.