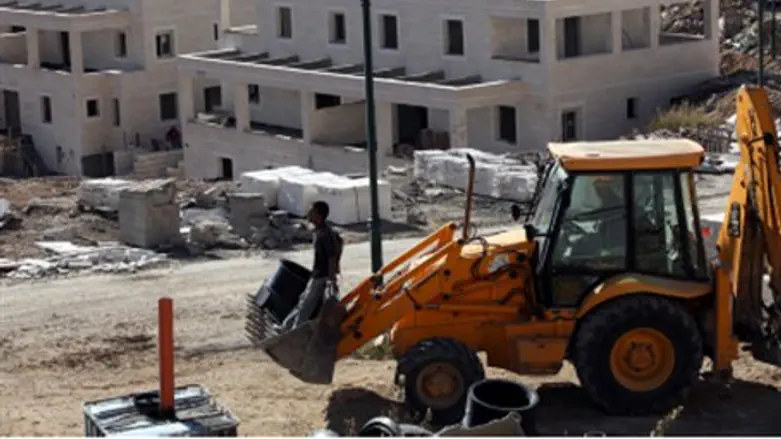 Givat Ze'ev construction
Flash 90
Ultra-leftist NGO Peace Now told AFP on Tuesday that the government has approved plans to build 381 new homes in Givat Ze'ev, Samaria, located just five kilometers north of Jerusalem.
"The Israeli Civil Administration, which falls under the [auspices of] the Defense Ministry, has published plans for the construction of 381 extra units in Givat Ze'ev," said Peace Now spokesman Lior Amihai.
"This is the third time since the last phase of Palestinian prisoner releases that the government has approved plans for new houses," Amihai said.
On January 6, Israel approved plans for 272 new homes in Jerusalem, Judea and Samaria, and followed up on January 10 with the unveiling of plans to build more than 1,800 new units in these areas, which constitute Israel's Biblical heartland.
The announcements followed the release by Israel on December 31 of 26 Palestinian Authority (PA) terrorist prisoners who had been serving life sentences for murders, as part of US-brokered peace talks.
PA chairman Mahmoud Abbas later claimed Israel was using the "peace talks" as a "cover" to "expand its settlements."
The decision to press ahead with settlement building despite international censure prompted Britain, Italy, France and Spain to summon Israeli ambassadors in protest, with the Jewish state subsequently calling in European ambassadors to explain their countries' "pro-Palestinian bias".
Peace Now regularly publishes such information as part of its campaign to trigger foreign pressure against Israeli construction in Judea, Samaria and Jerusalem.