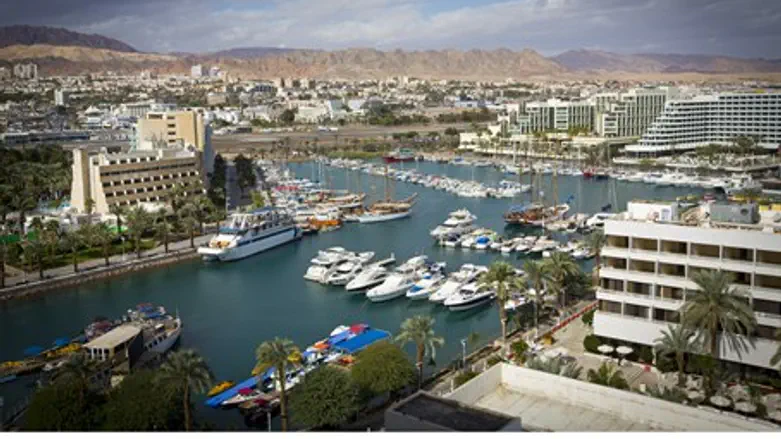 Illustration: Eilat Marina
Flash 90
The Long War Journal reports Tuesday that a Sinai-based Salafist group has claimed responsibility for Monday's rocket fire on Eilat. 
The jihadist group, named Ansar Jerusalem or Ansar Bayt al Makdis, posted on Gaza-based social media a statement boasting the attack. 
"Our war with the enemy in Egypt has not dissuaded us from the war against the first enemy of our nation," the statement claims. "With Allah's help, the Jews will only see injury from us." 
The organization is believed to be the most prominent group operating against the Egyptian army in recent months. 
The group has attempted to kill Egyptian officials, including the country's interior minister. In December, they launched a deadly attack in Mansoura which killed 14 - and pushed Cairo to blacklist the Muslim Brotherhood as a terrorist group, leading to clashes country-wide between Brotherhood supporters and the new government. 
Last month, the Egyptian Army eliminated the group's leader, Ibrahim Abu Atiyeh, who was also directly responsible for rocket fire against the resort town in August. 
In the past few months, the Egyptian armed forces have launched large scale military operations against terrorists in Sinai in an attempt to suppress the insurgency. The terror groups have hit back - a torrent of attacks by gangs of Al Qaeda-inspired Islamic terrorists have killed many Egyptian soldiers and policemen since former President Mohammed Morsi's overthrow.
The rocket fire came just 24 hours after Defense Minister Moshe Ya'alon warned Hamas terrorists in Gaza to stop firing rockets at southern Israel. 
"We will not accept the targeting by terrorists of Israel, and we will act to cause damage to anyone that threatens the security of our citizens," he added.
Ya'alon stressed that the days of terrorists taking "free shots" at Israel were over.
"We will not permit a return to the days when rocket attacks were a matter of routine. Anyone who tries this will pay the price. I would not recommend anyone in Gaza to try our determination to defend Israelis," Ya'alon warned.