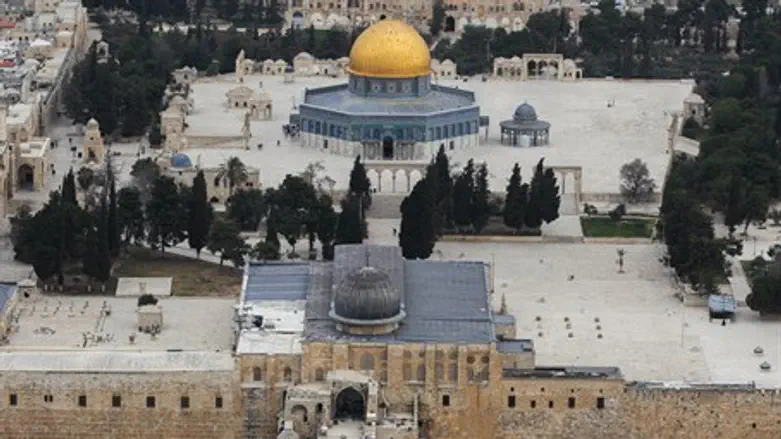 Temple Mount
Flash 90
A religious Jewish woman who wanted to visit the Temple Mount on Sunday morning was told she could not enter the holy site because her skirt was too short, Temple Mount activists have reported.
The woman was wearing thick black tights, a knee-length black skirt, and a long-sleeved black top.
An Israeli police officer at the site explained to the young woman that while her clothing was sufficiently modest under Jewish law (halakha), and while the Israel Police saw no problem with her attire, authority to make decisions regarding visitors' modesty belongs to the Islamic Waqf – which had decided that her skirt was not sufficiently modest.
The officer then questioned the woman and a companion, asking whether they had tried to enter the Temple Mount as Israelis, or as foreign tourists.
When the two demanded that they be allowed to visit the holy site, the officer reportedly responded, "No provocative questions."
The officer demanded that a friend of the two who was filming the exchange stop filming, but the man refused. "It's my right," he said.
The LIBA movement, which works for Jewish religious rights on the Temple Mount, expressed outrage over the incident. "Putting the Waqf in authority over Jews is worse than leaving the cat to guard the cream," activists charged.
"The Waqf is waging a struggle against Jews on the Temple Mount," they explained. "Its people do everything they can to keep as many Jews as they can away from the site."
"Putting this authority into the hands of the Jordanian Waqf contradicts the law for Holy Sites, and the Basic Law: Jerusalem," added Rabbi Yehuda Glick, the director of LIBA.
Temple Mount activists have warned that the Waqf is allowing the wholesale destruction of Jewish artifacts on the Temple Mount, and is ideologically opposed to Jewish visitors. Muslim leaders in Israel - including Arab-Israeli Members of Knesset - have openly stated that they believe Jews should not be allowed to visit the site.
Israeli police have instituted a ban on Jewish worship at the site in order to avoid offending Muslim worshipers, and recently went so far as to ban dried fruit for fear that Jewish visitors would use it to celebrate the holiday of Tu BiShvat.
The Temple Mount was the site of the First and Second Temples, and is the holiest place on earth according to Judaism. It is also home to the Al-Aqsa Mosque, a well-known Muslim place of worship that has become a focal point of conflict as Arab leaders accuse Israel of attempting to "Judaize" Jerusalem.