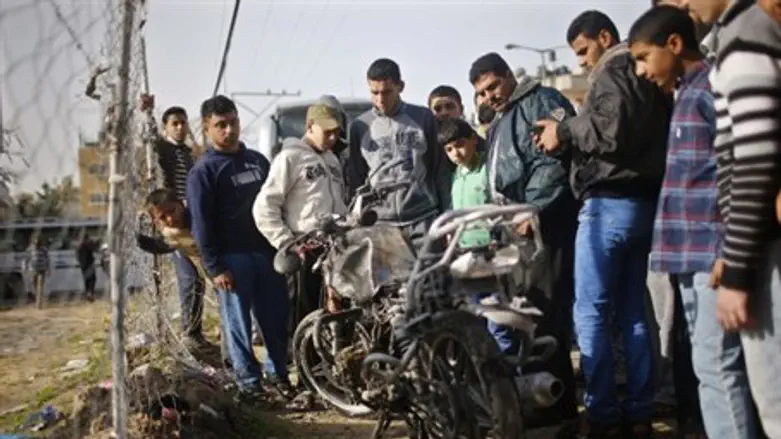 Aftermath of airstrike
Reuters
The Air Force hit an Islamic Jihad terrorist in an airstrike in northern Gaza on Sunday morning. The terrorist has been identified as Ahmed Sa'ad.
Sa'ad had been riding a motorbike when he was hit by a missile. Video of the aftermath shows the burnt motorbike and a small crater in the road where the missile struck.
Sa'ad is known to be involved in Islamic Jihad rocket attacks from Gaza. According to IDF sources, he played a part in recent rocket attacks and shooting attacks on Israelis near the Gaza border.
He reportedly was personally responsible for the barrage of rockets fired at the city of Ashkelon last Thursday.
Gaza media outlets reported that Sa'ad was injured in the airstrike, and is in serious condition. One report stated that a 12-year-old boy was injured as well.
A statement from the IDF said, "The IDF takes any fire on Israeli territory seriously, and will continue to take strong action against any attempt to carry out terrorist activity. We are ready and willing to defend the citizens of the state of Israel."
On Saturday night IAF aircraft targeted several terrorist sites in Gaza. The strikes came in response to a rocket attack on southern Israel hours earlier.