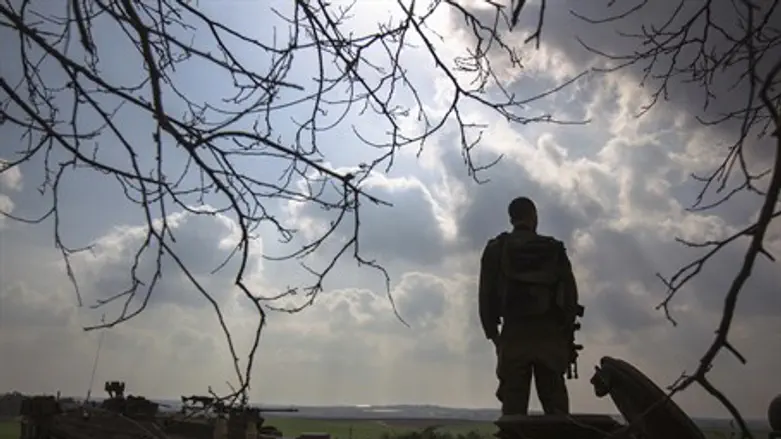 IDF soldier on the border with northern Gaza
Reuters
IDF soldiers on Friday fired live rounds and tear gas at protesters who approached the border fence in Gaza and failed to comply with orders to turn back, AFP reported.
Two Gazan Arabs were wounded, medics and an AFP correspondent said.
Troops fired at some 300 demonstrators who were protesting against what they claimed was Israel's destruction of farmland for its 300-metre buffer zone, according to the correspondent.
Two protesters were slightly wounded and taken to hospital, Gaza's Hamas health ministry spokesman Ashraf al-Qudra told AFP.
An IDF spokesman confirmed that troops had opened fire on Arabs who went near the border fence and refused to heed warnings to pull back, but said he was unaware of any injuries.
"A group of Palestinians came very near the border fence. Soldiers tried to disperse them by using anti-riot methods but as the Palestinians continued to advance they fired towards their legs," the spokesman told AFP.
The demonstrators were marching near the fence in support of farmers, whose  citrus trees they claimed had been uprooted by troops to make way for a buffer zone along the border.
"Israel destroyed most of our citrus trees... (and) still prevents us from importing or exporting any products," said protest organizers the Gaza Youth Coalition.
A statement deplored what they describe as "daily Israeli attacks" against farmers near the border.
Friday's incident comes as tensions have increased with Gaza in recent days. Early Thursday morning, Israeli Air Force (IAF) aircraft targeted a concealed rocket launcher, a weapons storage site and a center of terrorist activity in northern Gaza. The airstrikes came in retaliation for a rocket barrage which targeted the city of Ashkelon Wednesday night.
Since the IDF's counterterrorism Operation Pillar of Defense in late 2012, there has been relative quiet in the region, but defense officials have said that the ceasefire with Hamas, brokered by Egypt and the United States following the counterterrorism offensive, is dissolving.
While attacks from Gaza were down 98% one year after Operation Pillar of Defense, the number has recently skyrocketed. A barrage of at least 6 rockets as occurred Wednesday reportedly hasn't happened for some time.
The IDF has warned Hamas that it is willing to step up its response as the terror organization escalates its attacks. Reports show Hamas has been stockpiling long-range rockets, indicating fierce fighting may be looming.
(Arutz Sheva's North American Desk is keeping you updated until the start of Shabbat in New York. The time posted automatically on all Arutz Sheva articles, however, is Israeli time.)