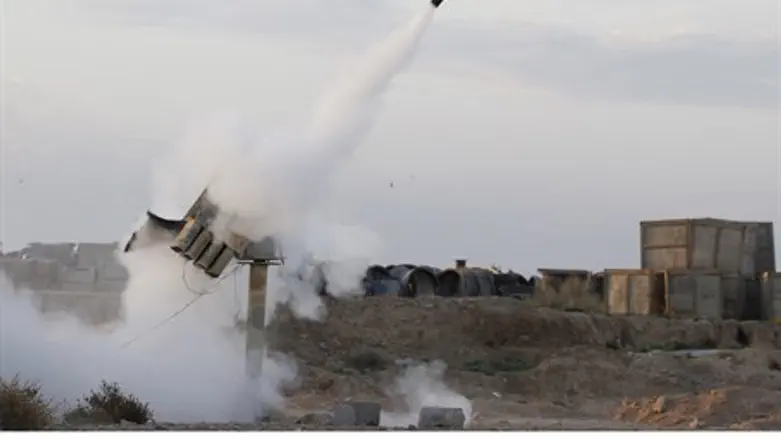 Illustration: Rebels fire a rocket near Raqqa
Reuters
Rockets - and possibly shells - were fired from Syria into Lebanon Friday, landing in the Lebanese border town of Arsal, according to official state news.
The rockets have reportedly killed 7 and wounded at least 15. 
According to Lebanese news outlet The Daily Star, facts on the ground contradict official news announcements, which state that only 1 rocket hit the city. Local security forces reportedly told the agency that at least seven rockets fell in the area. 
In addition, security forces have reported to the Egyptian outlet Ahram Online that that number is closer to 20 - and includes both rockets and shells. Ahmad al-Hojairi, an official in Arsal, said it was unclear if Friday's casualties were Lebanese or Syrian.
"What we can confirm is that six or seven rockets launched from Syria hit a residential area. Two of the rockets hit houses," Hojairi stated. 
Arsal is in the Baalbek region, which is considered a Hezbollah stronghold. But while Hezbollah is Shi'ite, the town of Arsal itself has a Sunni majority. Rockets have also fallen in the nearby town of Hermel, according to Reuters UK; a security source stated to Ahram that shelled areas include "Ras Baalbek, Al-Qaa, Al-Ain and the edges of Hermel." 
Fighting between Syrian rebels has begun to spill over into Lebanese areas in recent weeks, according to the Star, particularly from the Syrian border towns of Qusair. 
On Thursday, a Lebanese rebel branch of the Al-Nusra front claimed responsibility for a car bombing in Hermel. That explosion killed 4 and left 43 wounded. 
Thursday's blast in Lebanon was the latest in the ongoing sectarian clashes in the country. Hezbollah strongholds have previously been targeted by Syrian rebels over the group's support for the Assad regime.
Hezbollah has actively helped Assad's troops in the war against rebels trying to topple him. Hezbollah leader Hassan Nasrallah has promised that his group will be wherever is needed in Syria and has also declared he was willing to go fight in Syria himself.