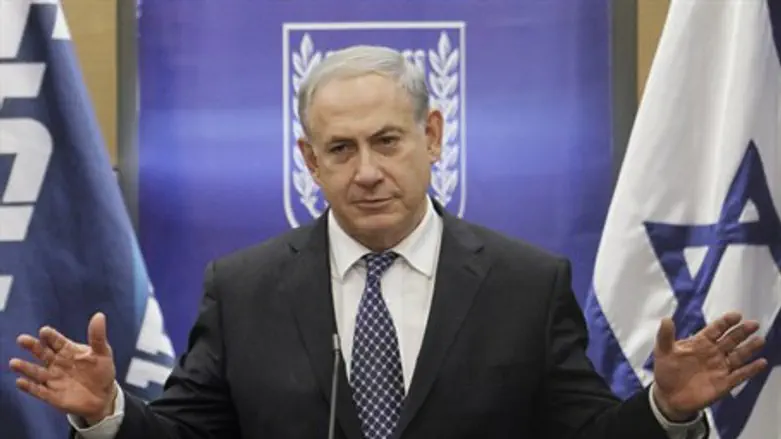 Binyamin Netanyahu
Flash 90
Prime Minister Binyamin Netanyahu supports Foreign Minister Avigdor Liberman's land swap plan, according to a Maariv report Friday. 
The swap, which Israel reportedly offered the US in talks in December, refers to the area known as the Triangle in east-central Israel. The area includes the cities of Tayibe and Tira, in which about 300,000 Arabs live.
Israeli Arabs in those areas would become citizens of a Palestinian state, according to the proposal.  In return for the area ceded, Israel will get to keep settlement blocs in Judea and Samaria. 
Liberman has backed the plan since as early as 2004. But now, the Israeli daily cites "senior Likud officials" in confirming that Liberman's plan is one step closer to actualization.
"Note that two prominent people chose not to comment on Liberman's speech to ambassadors - Netanyahu and Livni." a "senior source" told Maariv. "That was not a random [oversight]." 
According to Likud sources, Netanyahu stated Thursday that the Liberman land swap plan was still an option in the event that he would be forced to agree to a border change in negotiation with the Palestinian Authority. They also cited a report by IDF Radio Thursday stating that Netanyahu negotiated to keep the Beit-El bloc, in exchange for money paid to the PA. 
Likud sources also claim that Liberman answered questions about a population swap by stating that they were "very much" still under consideration. "Sources close to Netanyahu" stated that the Prime Minister "sees logic" in the land swap plan.
They also claim that Netanyahu "was angry" at the proposal for a bill preventing negotiations on the division of Jerusalem without a Knesset vote. MK Miri Regev spearheaded the bill, which ultimately failed to pass a vote in the Ministerial Committee for Legislation on Sunday.
Netanyahu reportedly stated hours later in anger, "no one needs to preach to us about Jerusalem," claiming that enacting "detailed laws" would "infringe on the power of the government." 
The report remains unconfirmed. It should be noted that Maariv is a left-wing publication; in addition, the reports about stating that Netanyahu is keeping a divided Jerusalem as a potential option in negotiations directly contradicts statements Netanyahu made last week refusing to divide Jerusalem under any interim agreement.