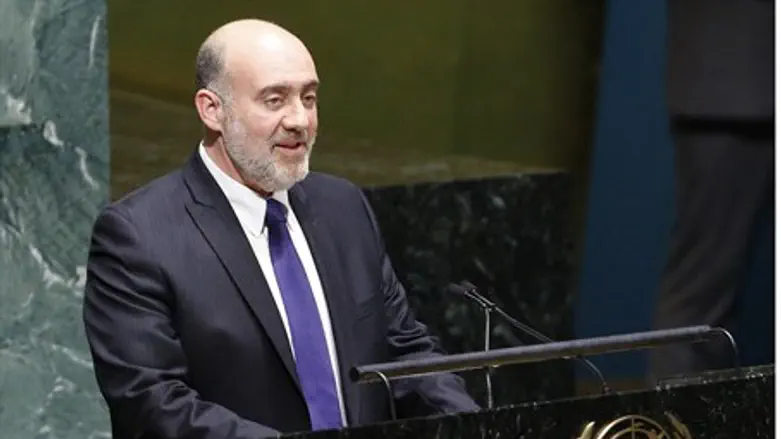 Ron Prosor
Reuters
Israel's ambassador to the United Nations on Thursday slammed the global body for promoting an International 'Year of Solidarity with the Palestinians.'
In a statement, ambassador Ron Prosor said the UN was wasting money simply for the purpose of promoting the Palestinian Authority's (PA) propaganda.
"The UN continues to oil the Palestinian propaganda machine and produce highly publicized events on their behalf," charged Prosor.
"Rather than putting an end to Palestinian incitement, the UN is now the primary platform for Palestinian propaganda. The organization allocates endless resources to advancing lies and half-truths of the Palestinian leadership instead of dealing with pressing issues facing the international community and the Middle East region,"  he added.
"While they seek solidarity, the Palestinians continue to educate an entire generation to hate Israel. The terrorism from the PA's territories into Israel has doubled in the past year, and I have yet to hear the UN propose solidarity with the Israeli victims of terror," said Prosor.
Peace talks between Israel and the PA resumed last summer, but that has not stopped the PA from inciting against Israel in its media and in public speeches given by its officials. Many of these incidents have been reported by Arutz Sheva.
In one such incident, PA TV broadcast a crudely anti-Semitic program legitimizing violence against Jews in Judea and Samaria - who were stereotyped as violent thieves. The end of the program glorified the humiliation of a religious Jew by cutting off his peyote side-curls, in a scene chillingly reminiscent of Nazi anti-Jewish propaganda.
Other broadcasts included a re-run of a music video encouraging violence against Israelis, and the glorification of the murderer of 61 Israeli civilians on the official Facebook page of PA Chairman Mahmoud Abbas's Fatah party.
Prosor last month sent a letter to UN chief Ban Ki-moon and to the Security Council, demanding they condemn the ongoing incitement against Israel by the PA.
In the letter, Prosor pointed out that this incitement is a direct cause of terror attacks against Israelis.
"This violence is proof that Palestinian incitement is having deadly consequences," he wrote. "In classrooms, textbooks and houses of worship, messages of hate and intolerance are poisoning the hearts and minds of the next generation and having deadly consequences."