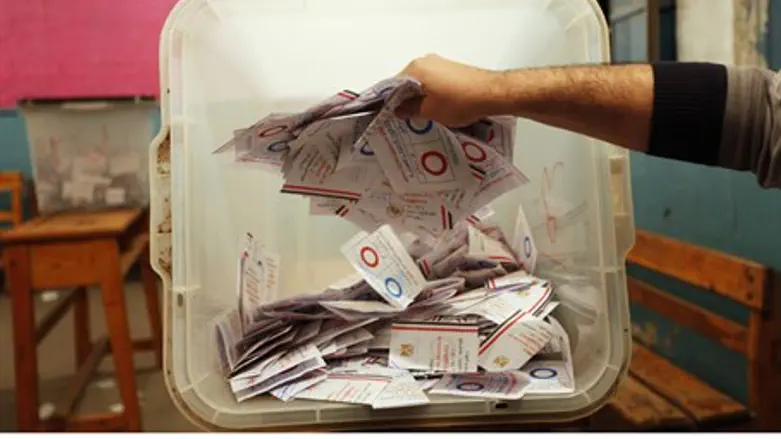 Ballots counted after referendum on Egypt's c
Reuters
Egyptian voters have overwhelmingly approved a new constitution in a referendum held over the past two days, an Interior Ministry official said on Wednesday, according to Reuters.
"Turnout so far may exceed 55 percent and the approval of the constitution is perhaps more than 95 percent," Major General Abdel Fattah Othman, director of public relations for the ministry, was quoted as having told private satellite channel Al-Hayat.
He was citing preliminary results of the two-day vote that ended at 9:00 p.m. local time on Wednesday. An overwhelming approval of the new constitution could pave the way for popular army chief General Abdel Fattah al-Sisi to announce his candidacy for president.
After polls closed, Al Jazeera quoted state radio as having said that 28 percent of voters participated in the first day of voting. Voters said the lines were shorter than during the 2012 referendum, but there were also more than twice as many polling stations, which should result in shorter queues.
Visits to polling stations, noted Al Jazeera, suggest that second-day turnout was lower. A queue in the upscale Zamalek district that stretched for two blocks on Tuesday had just four voters on Wednesday afternoon.
There were no reports of violence on Wednesday, in contrast to Tuesday when at least 11 people were killed in clashes across the country, and a bomb damaged a courthouse in Cairo two hours before polls opened.
Police arrested one man in Cairo for writing "no to military trials" on his ballot, according to Al Jazeera.
Final results will be announced within 72 hours, according to the high electoral commission.
The Muslim Brotherhood, whose President Mohammed Morsi was ousted by Sisi and the military in July and which has been since branded a terrorist group, called for a boycott of the vote.
The revised charter preserves the military's wide-ranging powers, including the ability to try civilians in certain cases. This has angered secular groups that backed the military in ousting Morsi.
Other articles include one stipulating that Islamic Sharia law will be the main source of legislation, as was also the case during the regime of toppled ruler Hosni Mubarak.
Another main article of the new charter forbids the formation of religious parties or parties based on religious grounds.