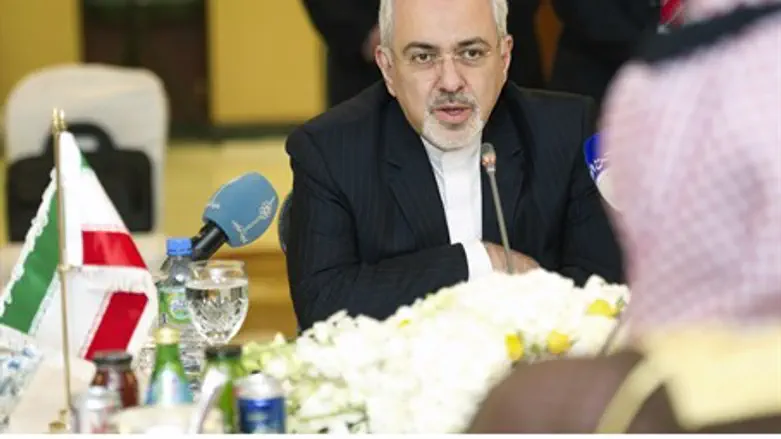 Iran's Foreign Minister Mohammad Javad Zarif
Reuters
The United States on Tuesday hit out at Iranian Foreign Minister Mohammad Javad Zarif after he lay a wreath at the tomb of Hezbollah terrorist Imad Mughniyeh during his visit to Beirut.
"The United States condemns the decision taken by Zarif ... to place a wreath at the grave of Imad Mughniyeh, a former leader of Lebanese Hezbollah responsible for heinous acts of terrorism that killed hundreds of innocent people, including Americans," U.S. National Security Council Spokesperson Caitlin Hayden said in a statement quoted by the Lebanese Naharnet website.
"The inhumane violence that Mughniyeh perpetrated -- and that Lebanese Hezbollah continues to perpetrate in the region with Iran's financial and material support -- has had profoundly destabilizing and deadly effects for Lebanon and the region," Hayden added.
She noted that the decision to commemorate "an individual who has participated in such vicious acts, and whose organization continues to actively support terrorism worldwide, sends the wrong message and will only exacerbate tensions in the region."
Naharnet reported that Zarif on Monday placed a wreath on Mughniyeh's grave at the Rawdat al-Shahidayn cemetery in the southern suburb of Beirut.
"The occasion of Prophet Mohammed's birthday must carry the beautiful meanings of resistance," Zarif said, according to the report.
"The Islamic religion is the religion that calls for confronting tyranny, aggression and arrogance and it is a peaceful religion that is innocent of all the accusations of terrorism and takfirism ... Our visit to this blessed cemetery is the best embodiment of these meanings," he added.
Mughniyeh was killed in a car-bomb attack in Damascus in February of 2008, reportedly while in the midst of planning major terrorist attacks.
Both Hezbollah and Syria blamed Israel for killing Mughniyeh, and Hezbollah has promised to avenge his death.
Israel has never confirmed or denied whether it had anything to do with Mughniyeh's death, but a Lebanese daily last year presented what it claimed was a detailed account of his death and fingered the Mossad for it.
Mughniyeh was indicted in Argentina for his alleged role in the 1992 attack on the Israeli embassy in Buenos Aires, noted Naharnet.
U.S. officials have accused him of killing more United States citizens than any other terrorist prior to the 9/11, and the bombings and kidnappings he is alleged to have organized are credited with all but eliminating the U.S. military presence in Lebanon in the 1980s.
Mughniyeh was included in the European Union's list of "wanted terrorists" and had a $5 million bounty on the FBI "Most Wanted Terrorists list."
Iran is a heavy backer of Hezbollah and has been providing it with arms for years. Last Saturday, a senior commander in Iran's Revolutionary Guards declared that Hezbollah has dramatically improved its missile capabilities and can pinpoint targets anywhere in Israel.