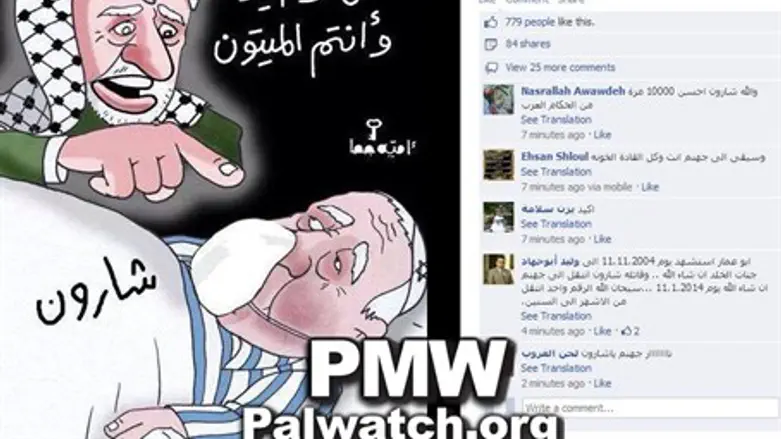 Cartoon of Yasser Arafat and Ariel Sharon on
Palestinian Media Watch
The celebration among Palestinian leadership over former Prime Minister Ariel Sharon's death on Saturday has been gathering steam with Arab MKs joining the Palestinian Authority (PA) and PA media, reports Palestinian Media Watch (PMW).
The bashing of Sharon included a picture of former PA Chairman Yasser Arafat dancing in joy above the text "an official announcement of the death of Ariel Sharon." The picture was posted on the official Facebook page of PA Chairman Mahmoud Abbas's Fatah movement on Saturday.
The PA's official TV station began its anti-Sharon barrage the same day with a news report claiming Sharon "committed massacres," referencing the murder of Muslims in Sabra and Shatila by Christian Phalangists in 1982 during the Lebanon War. The report added that "he defiled the Al-Aqsa Mosque in the year 2000," in reference to Sharon's visit to the Temple Mount, the holiest site in Judaism, an event used by Arafat as an excuse to launch the horrific terror war often referred to as the Second Intifada.
On Sunday, PA TV got in on the Facebook action, posting a cartoon of Arafat depicted as a martyr in heaven telling Sharon "we are the living, and you are the dead."
Senior PA official Jibril Rajoub on Sunday called Sharon a "war criminal." Rajoub himself was given a life sentence in 1970 for throwing a grenade at an IDF truck. He was released in 1985 in a prisoner exchange that released 3 Israeli hostages for 1,150 Arab prisoners.
Fatah Central Committee member Sultan Abu Al-Einein added his condemnation, saying Sharon's "final crime" was "the murder of Yasser Arafat," a conspiracy theory that the PA has been propagating.
The attacks were not limited to the PA, however.
Hadash, an Arab party in the Israeli Knesset, wrote on its Facebook page Saturday that "war criminal and former Israeli Prime Minister Ariel Sharon is dead," referring to him as a "murderer" elsewhere on the page.
A cartoon of Sharon descending into hell, dragging iron balls behind him labeled "Deir Yassin," "Qibya," "Sabra," and "Shatila," was likewise posted on the page.
Arab MK Jamal Zahalka (Balad) likewise slammed Sharon as a "war criminal," calling for a posthumous trial.
Hamas in Gaza decided to take a more active approach. As Sharon's funeral at his Negev ranch was winding down on Monday, the terrorist group fired 2 missiles that landed a mere four kilometers (2.5 miles) away from the ranch.
MK Moti Yogev (Jewish Home) remarked earlier in the day that the danger was made possible by Sharon's expulsion of all Jews from Gaza in 2005 in the "Disengagement" plan, which enabled Hamas's takeover of the area.
The total inaction over the outpouring of abuse from the various official Arab sources, including Arab MKs, comes in stark contrast to the orders of Interior Security Minister Yitzhak Aharonovich to investigate Jewish celebrations over Sharon's death.
In response to the declared investigation, which was labeled as a "thought police"-type action by the Association for Civil Rights in Israel, Attorneys Itamar Ben-Gvir and Baruch Ben-Yosef declared they would offer free legal services to Jews arrested for expressing joy over Sharon's death.
Cartoon of Ariel Sharon on Arab Knesset party Hadash's Facebook Palestinian Media Watch