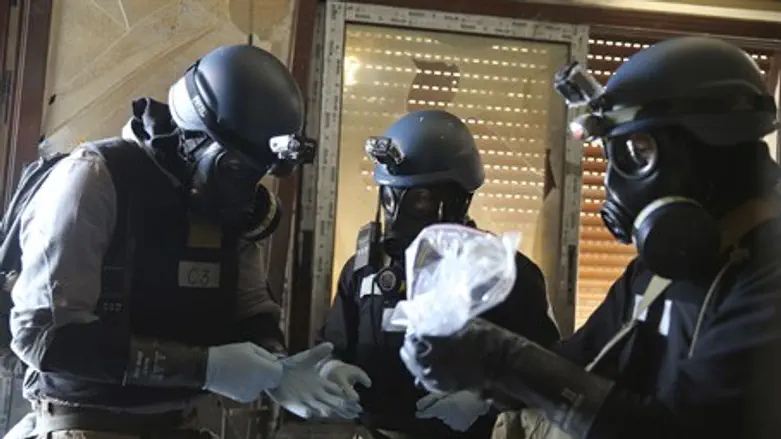 UN experts at the site ofo chemical attack
Reuters
Britain said on Monday it planned to give the United States specialist equipment and training to help it destroy Syria's chemical weapons arsenal more quickly, reports Reuters.
British Defense Minister Philip Hammond said in a written statement to parliament on Monday his country planned to gift equipment to the United States worth around 2.5 million pounds that would allow the chemicals to be processed at a higher rate.
"The U.S. approached the UK to support this primary activity from our domestic industry as they would not have been able to procure the device themselves within the timeframes set," Hammond said.
The Telegraph reported that Britain was the sending Royal Navy frigate HMS Montrose to assist in the international effort to remove Syria's chemical weapons stockpile
Foreign Secretary William Hague, who announced the move, said it was a "strong example of international co-operation" and added that there were plans for a "major" new donation in an effort to ease Syria's humanitarian crisis.
An international operation to destroy Syria's stockpile of deadly chemicals is currently underway, and is a joint Russian-U.S. Syrian chemical plan that was endorsed by the UN Security Council in September.
The resolution was a last-minute measure to prevent an American strike on Syria in retaliation for the regime's alleged use of chemical weapons in an attack on a Damascus suburb in August that left hundreds dead.
War, bad weather, bureaucracy and technical issues delayed a December 31 deadline for the removal of the most deadly toxins from Syria, but the first batch of chemical weapon materials was moved out of the country last week.
Hague, meanwhile, warned that achieving an end to the civil war remained "challenging" and accused Syria's government of committing "yet another war crime" by spraying civilian areas with barrel bombs – oil drums or cylinders packed with explosives and metal fragments and dropped from aircraft.
Syria has been using these "barrel bombs" in recent airstrikes on the northern city of Aleppo, where more than 700 people have been killed and 3,000 injured since December 15.
Last week, Britain tried to pass a resolution in the United Nations Security Council that would have condemned the Syrian regime for its use of missiles and barrel bombs on civilians, but Russia vetoed the resolution.