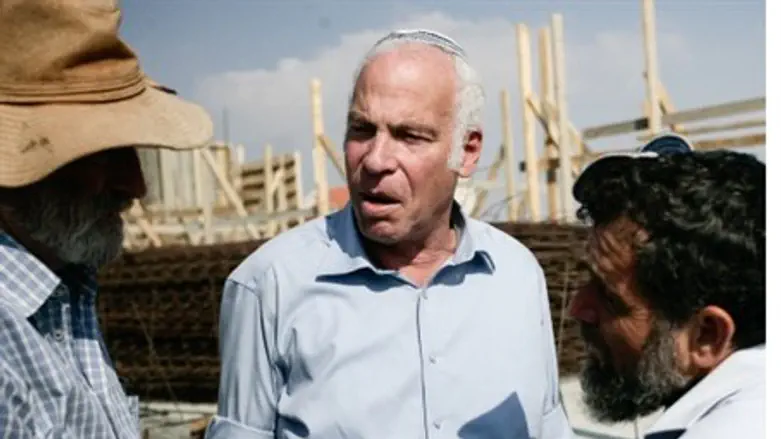 Minister Uri Ariel
Israel news photo: flash 90
Housing Minister Uri Ariel (Jewish Home) said Monday that Israeli construction in Judea and Samaria will continue, even if the Americans don't like it.
Speaking to Kol Yisrael radio, Ariel said that the publication of the latest tenders for new homes were coordinated with U.S. Secretary of State John Kerry and that he approved of them.
"Even if the United States does not approve of the construction, it will continue," he added. "The United States is our greatest ally, but they also sometimes take actions we do not approve of."
Last week, the Israel Land Authority and Ministry of Construction and Housing announced the publication of tenders marketing land in Jerusalem, Judea and Samaria for construction.
The planned property set aside for construction in Judea and Samaria includes a total of 801 new housing units.
The announcement was condemned by the Palestinian Authority (PA), whose spokesman Nabil Abu Rudeineh said the decision to build new homes "reflects Israel's insistence on sabotaging U.S. efforts to reach peace based on the two-state formula."
These tenders are ones that Prime Minister Binyamin Netanyahu had planned to publish parallel to Israel's recent release of 26 terrorist prisoners from Israeli jails as a "gesture" to the PA.
Netanyahu later agreed to postpone the announcement until after Kerry concluded his latest visit to the region.
The PA has repeatedly slammed Israel's planned construction in Judea, Samaria and Jerusalem, despite the fact that it was informed in advance that Israel will continue to build as talks continue. The areas in which Israel plans to build are areas that even the PA has previously accepted will be part of Israel in a future deal.
On Monday, German's Foreign Minister, Frank-Walter Steinmeier, used his visit to Israel for Ariel Sharon's funeral to warn Israel against continuing its building in Judea and Samaria.
He said Germany expected the Palestinians "to do their part" but warned Israel that its presence in Judea and Samaria, and ongoing building efforts there, are damaging the direct talks which began in July.
"It is clear that the continued building of settlements really hurts the process," Steinmeier claimed.
Kerry has in the past said that Israeli announcements of new construction were expected and said that they should not affect the resumption of peace talks.
At the same time Kerry has declared that the United States has "always considered the settlements to be illegitimate."