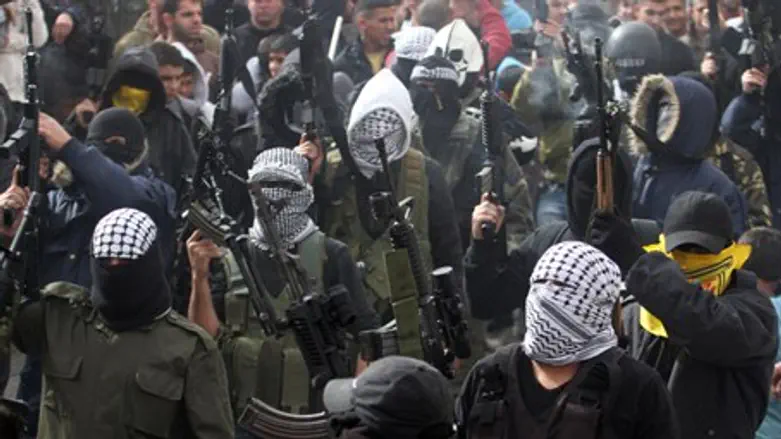 Fatah's Al Aqsa Martyrs' Brigade in Kalandiya
Flash 90
Members of Fatah, the party of Palestinian Authority (PA) Chairman Mahmoud Abbas, have reportedly raided Arab villages in "Area C", just north-west of Jerusalem, opening fire with automatic rifles. The clashes are reportedly part of internal power struggles within the party
"Area C" refers to areas within Judea and Samaria which are under full Israeli security control, in contrast to Areas A and B which are under full and partial PA control respectively.
The Arab news source Ajnad News reports that residents of the villages Katane, Bidu, and Beit Anan, which lie just outside of Jerusalem, feel "insecure" after automatic gunfire rent the still night air.
Residents relate that the fire from automatic weapons was different from recent celebratory gunfire commemorating the founding of the Arab-nationalist Fatah at the beginning of the secular year. This time, they said, the gunfire stemmed from conflict between two rival Fatah factions in the villages.
Fatah is coming under increasing scrutiny, after a recent incident in which members of the group armed with automatic weapons were filmed in Kalandiya, in northern Jerusalem, and after a PA police officer was arrested for involvement in the bombing of a bus in Bat Yam two weeks ago.
Under the Oslo Accords, armed Palestinian Arab groups are forbidden from operating in Area C, and the growing presence of armed terrorists may be an ominous sign of things to come.
Israelis are already skeptical about the intentions of the Fatah-led PA, given ongoing incitement and conflicting messages during the current talks.
In a clip exposed last week, a senior member of Fatah told Syrian TV that any peace agreements are merely the "first stage" in realizing the group's ultimate goal of destroying Israel.