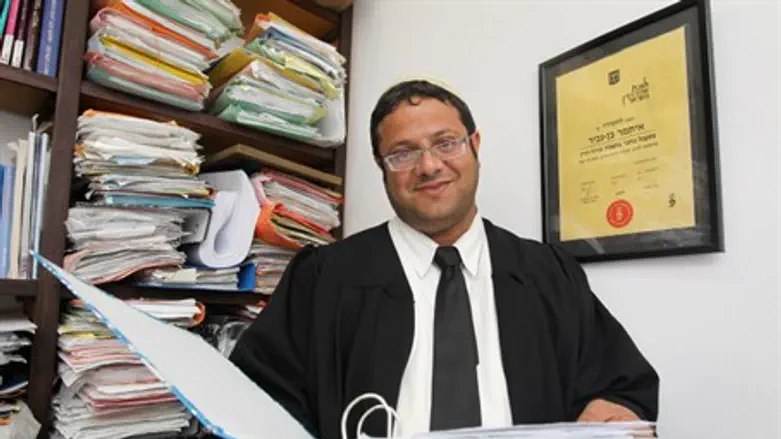 Attorney Itamar Ben-Gvir
Flash 90
In response to Public Security Minister Yitzhak Aharonovich's call for police investigations over celebrations of former Prime Minister Ariel Sharon's death, Attorneys Itamar Ben-Gvir and Baruch Ben-Yosef have offered their legal services free of charge to anyone arrested or tried over such joyful comments.
"In a country that has determined freedom of expression as the core element of democracy, and whose Supreme Court has acquitted on more than one occasion those who praise 'intifada' and the murder of Jews on claims of free speech, clearly there is no infringement of the law in expressing joy," argued the attorneys.
Aharonovich's call for an investigation, which the Association for Civil Rights in Israel called an attempt to "act as 'thought police,'" centers around posters put up at the Torat Chaim Yeshiva in Yad Binyamin near the coast, just east of Ashdod.
The posters were hung by students of the yeshiva, which Sharon twice destroyed, first in Yamit and later in the "Disengagement" that expelled all Jews from Gaza.
After wishing "warm congratulations to Ariel Sharon on his death," the poster quoted the 12th century CE Jewish sage Rambam in hinting Sharon was an apostate and informer, whose death should be celebrated. Rabbis of the yeshiva had the poster removed when they learned of it.
"Of course one can not agree with the expressions (of joy)," noted the attorneys, "but it is the right of every person to express their legitimate personal opinion about the death of Sharon without fear of police threats."
"More than that, one can express his desire that a living person die naturally, and all the more so can praise the death of someone who already passed," commented the legal experts.
Ben-Gvir and Ben-Yosef called for action over the abuse of police power.
According to them, Prime Minister Binyamin Netanyahu "should remove Aharonovich from his position because he's using it to silence people and spread fear on those wishing to exercise their rights of free speech. This man is not appropriate or fitting for his post in a healthy, free country."