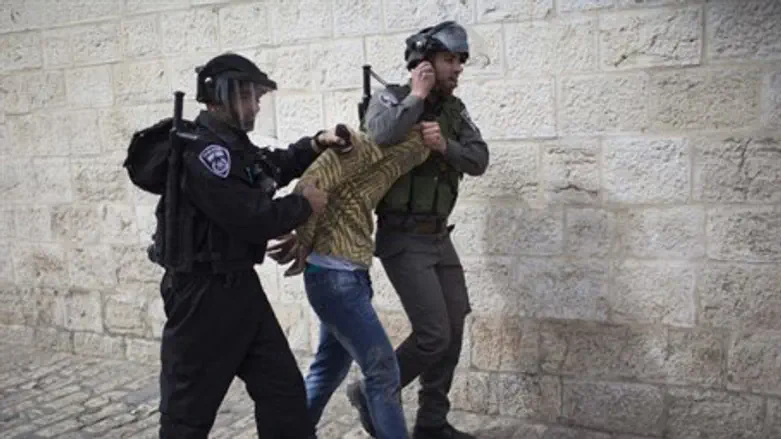 Arrests (illustrative)
Flash 90
Police have arrested seven teenagers and young men who were abducted and beaten by residents of the Palestinian Arab town of Kusra (Kotzra) last week.
The attackers told police that the Jews they had beaten had planned a "price tag" vandalism attack in the area. The young men were apparently arrested for questioning in connection to that accusation.
The victims have argued that they were nowhere near Kusra when they were assaulted, proving that the prolonged assault was clearly not an attempt at self-defense.
Attorney Itamar Ben-Gvir slammed the decision to arrest the young men, particularly so soon after the assault. "Some of those detained are still suffering injuries," he said.
"The Israel Police is displaying moral bankruptcy: those who beat the young men with iron bars, wooden poles and the like were not arrested, but those who survived a 'lynch' were arrested. This is a backwards world," Ben-Gvir accused.
Police reportedly made three other "price tag" arrests over the weekend; those, too, came in for harsh criticism among right-wing activists.
Police arrested three young men aged 19-23 in the town of Tirat Tzvi. The three had fliers with them denouncing the work of a local Lands Administration official who was involved in distributing demolition orders to Israelis living in Judea and Samaria (Shomron).
They had a canister of gasoline with them as well. The three were arrested on suspicion of having planned to attack the official or vandalize his property.
Activists in Samaria said the three had not planned any form of physical violence. They went to Tirat Tzvi, Mehola and Nov with the plan of convincing locals to "speak to the heart" of the official "who has recently been unduly harsh," the activists said.
They reported that it was the activists themselves who called police, after one resident of Tirat Tzvi who was particularly upset by their activities had blocked their exit from the town. "They called the police to come help them. When the officers arrested, they saw a gas canister they had in their car for personal use, and arrested them on suspicion of involvement in 'price tag' activity," Samaria activists said.
The activists criticized police for being quick to release a statement "even though even they know these aren't 'price tag' youths… We've never heard of 'price tag' youths calling the police."