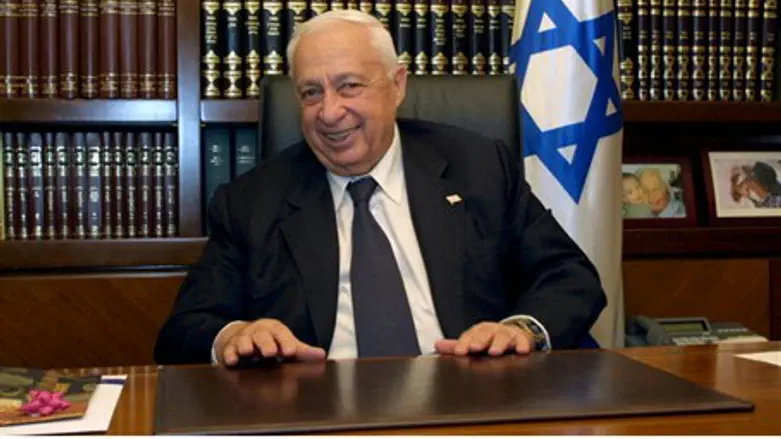 Ariel Sharon
Flash 90
The Ministerial Committee on Symbols and Ceremonies, chaired by Culture and Sports Minister Limor Livnat, convened Saturday evening at the Prime Minister's Office in Jerusalem, to discuss funeral arrangements for former Prime Minister Ariel Sharon, who passed away Saturday afternoon at the age of 85.
Attending the meeting were representatives of the Sharon family, Yisrael Maimon and Ilan Cohen, as well as representatives of the President's Residence, the Knesset, the Defense Ministry, the Foreign Ministry, the Israel Police and other agencies.
Sharon's coffin will be brought to the Knesset on Sunday. The public will be able to pay its respects until 6:00 p.m.
There will be no arrival to the Knesset in private vehicles. Return transportation will be available for the public, without charge, from Teddy Stadium and Latrun from 11:00. The last buses will leave the Knesset at 5:30 p.m.. All Knesset committee meetings scheduled for Sunday and Monday are cancelled.
On Monday at 9:30 a.m., a state memorial ceremony will be held at the Knesset. President Shimon Peres, Prime Minister Binyamin Netanyahu, Knesset Speaker Yuli Edelstein and family members will speak.
Senior guests, including U.S. Vice President Joe Biden, Quartet representative and former UK Prime Minister Tony Blair, Czech Prime Minister Jiri Rusnok, Russian State Duma Chairman Sergey Naryshkin, German Foreign Minister Frank-Walter Steinmeier, Spanish Home Affairs Minister Jorge Fernandez Diaz, Canadian Citizenship and immigration Minister Chris Alexander and others, will also attend.
At 2:00 p.m., a military funeral for Sharon will be held at the Shikmim Farm.
Tributes to Sharon from Israel as well as from around the world poured in after news of his death was made public.
Palestinian Arab leaders from both the Fatah-led Palestinian Authority and the Hamas movement celebrated his death, with a senior official labelling him a "criminal" and accusing him of being responsible for the death in 2004 of former PA Chairman Yasser Arafat.