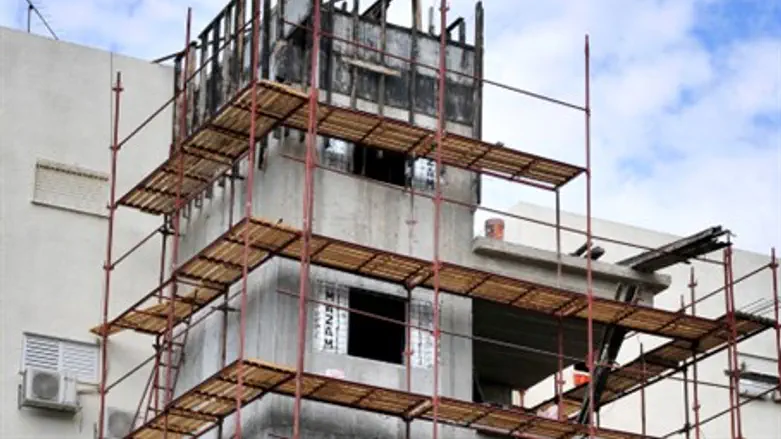 Illustration: construction
Flash 90
The Israel Land Authority and Ministry of Construction and Housing announced Friday morning the publication of tenders marketing land in Jerusalem, Judea and Samaria for construction.
The planned property set aside for construction in Judea and Samaria includes a total of 801 new housing units.
A detailed list of the plans reveals 227 housing units are planned for Efrat, 78 units in Alfei Menashe, 86 in Karnei Shomron, 40 in Ariel, 75 in Adam, 24 in Beitar Illit, 102 in Emanuel, and 169 in Elkana.
Meanwhile in Jerusalem, 600 units are planned for the neighborhood of Ramat Shlomo in the eastern part of the city.
Plans for 1,500 homes in the neighborhood were similarly announced in late October, eliciting the sharp criticism of the Palestinian Authority (PA) that accused Israel of "trying to wreck peace talks."
The government announcement included the re-marketing of land plots in Jerusalem that were marketed in the past but did not have offers recorded on them. These plots include 182 housing units in Pisgat Ze'ev, 294 in Ramot, and 56 in Neve Yaakov. Altogether the re-marketed land accounts for 532 units.
The announcement comes as Prime Minister Binyamin Netanyahu told senior officials he will not sign any framework agreement including the division of Jerusalem, according to reports Friday.
Just in late December reports indicated that Netanyahu was planning a construction freeze in Judea and Samaria.