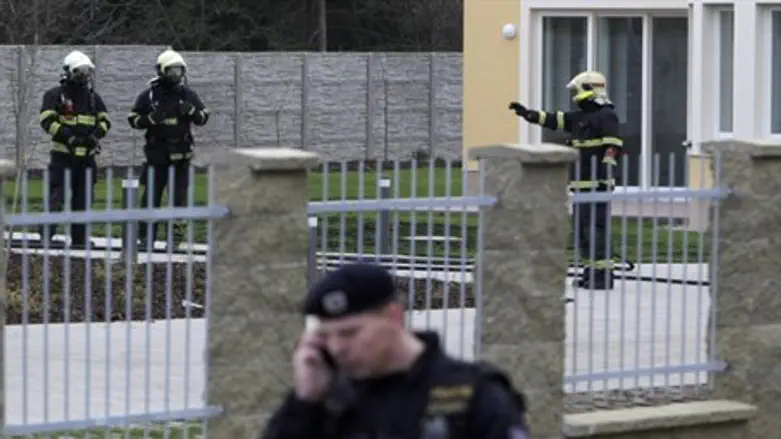 Scene of Prague blast
Reuters
Investigators have found 12 weapons inside the Palestinian Authority's mission in Prague, where an explosion last week killed its envoy, police said Sunday, according to AFP.
At the same time, Prague police chief Martin Cervicek denied media speculation that an arsenal of more than 70 weapons had been kept at the embassy, but would not give details.
"I firmly protest against false information that police officers found about 70 weapons. This doesn't make sense," the website of Prague daily Dnes quoted him as saying.
Cervicek said the weapons including submachine guns and pistols would undergo DNA and ballistic tests, but that no further information would be made public before that has happened.
Jamal al-Jamal, the 56-year-old ambassador to the Czech Republic since October, died on January 1. Police later ruled out an assassination, instead advancing the theory that the blast was caused by an anti-theft device inside a safe Jamal was manipulating.
The PA's foreign minister Riyad al-Malki described the blast as a "work accident."
Police also said unregistered weapons were found inside the mission in violation of diplomatic treaties.
The Czech police are pursuing their investigation into the blast with PA officials sent to Prague, reported AFP.
Jamal will be repatriated on Monday, his daughter Rana, who lives in Ramallah, said.
She has cast doubt on the police theory of the cause of her father's death, telling Dnes on Saturday, "What is certain is that it was not an accident."
The ambassador's daughter said she was convinced the explosives were put inside the safe when the diplomatic mission was recently moved from a different address in the Czech capital.
"A political or other motive" could be behind her father's death, she said, without elaborating.
"I don't know and I won't mention anyone."
Meanwhile, the deputy PA foreign minister, Tayseer Jaradat, in Prague with a team to help the investigation, told Reuters on Sunday he had confirmed to the Czech authorities that the weapons were from a previous era and were being stored.
"We have stressed our commitment to the laws of diplomacy," he said.
Jaradat was also quoted as having told Voice of Palestine radio the weapons stash dated back more than 30 years. He said some of the guns had been gifts to the embassy and some had been registered with the authorities.
Despite the PA's attempts to smooth relations with the Czech Republic following the blast, local officials said over the weekend that the Prague district hosting the PA embassy wants it moved because of the explosion.
"We asked the Czech foreign ministry for the embassy to be moved out of our district," Petr Hejl, senior councilor of Prague's Suchdol district, said.
"The district feels betrayed by the behavior of diplomats who kept weapons and explosives at the embassy, violating Czech and international law," he told AFP.