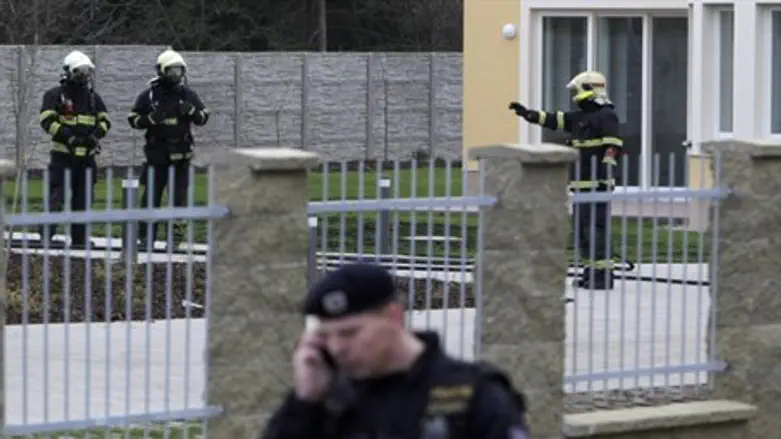 Scene of Prague blast
Reuters
The Prague district hosting the embassy of the Palestinian Authority wants it moved after the ambassador was killed in a mysterious explosion this past week, local officials told AFP on Friday.
"We asked the Czech foreign ministry for the embassy to be moved out of our district," Petr Hejl, senior councilor of Prague's Suchdol district, said.
"The district feels betrayed by the behavior of diplomats who kept weapons and explosives at the embassy, violating Czech and international law," he told the news agency.
Police said they found unregistered weapons at the PA's diplomatic mission, but would not elaborate on the type or quantity of illegal arms.
A banner saying "We like (the) city, not weapons" was strung on the embassy's fence Friday, according to AFP.
"We understand the fears of Suchdol residents," Czech foreign ministry spokeswoman Johana Gohova told AFP Friday. The ministry would "look into it," she added.
A ministry statement also said that Czech and Palestinian authorities had agreed to cooperate fully in the probe "so that mutual relations between the Czech Republic and Palestine are not damaged in any way."
The PA's ambassador to Prague, Jamal al-Jamal, suffered lethal injuries to his head, chest and stomach in a mysterious blast on Wednesday when he was handling a safe.
Police spokeswoman Andrea Zoulova told AFP Czech and PA investigators have been working on the premise that "an explosive system was placed in the safe."
"The question is what was it doing there," she said, while denying a media report that the device was a bomb.
Czech police have ruled out terrorism and homicide, while the PA's foreign minister Riyad al-Malki described the blast as a "work accident."