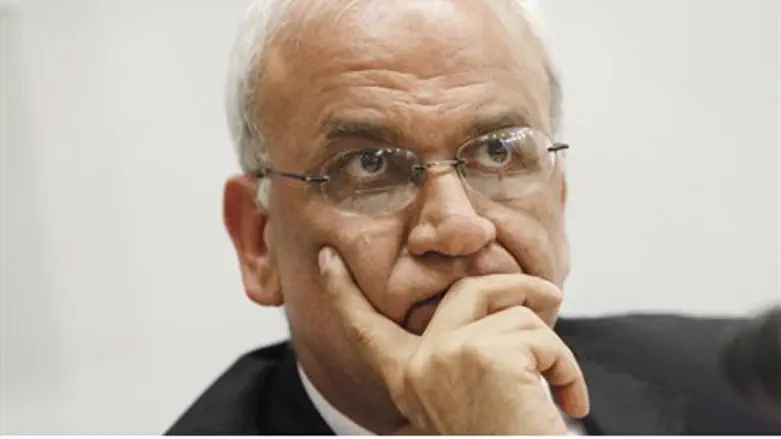 PA Chief Negotiator Saeb Erekat
Flash 90
The Palestinian Authority's (PA) chief negotiator for peace talks with Israel claimed Friday that he fears Israel might kill PA Chairman Mahmoud Abbas, reported the Ma'an news agency.
According to the report, Saeb Erekat told the Arabic language Asharq al-Awsat newspapers that he had read letters from Israeli Foreign Minister Avigdor Liberman addressed to various European countries.
Erekat said the letters demanded the removal of Abbas, deeming him a danger to Israel. From this Erekat deducted that Israel may kill the PA chief.
"The Israelis have this approach," Erekat claimed, adding, "Before President Arafat was killed with poison, there were voices in Sharon's government that said Arafat was an obstacle who must be removed, and they are doing that again."
He was referring to the death of former PA Chairman Yasser Arafat in France on November 11, 2004 at the age of 75. Doctors were unable to conclusively determine the cause of death. At the time, his widow Suha Arafat refused to allow an autopsy.
She later allowed investigators to exhume his body after traces of polonium-210 were found on clothing that she provided to scientists as part of an Al Jazeera documentary.
A team of Russian forensic experts recently said that Arafat died of "natural causes", and ruled out radiation poisoning as a cause of death. The PA did not accept the conclusions, and said it would continue its investigation into the former leader's death.
PA society has long given currency to the rumor that Arafat was murdered, with Israel the party most often blamed, but there has never been any proof. Israeli leaders for their part have repeatedly denied any role in his death, dismissing such suggestions as pure fiction.
The letter by Liberman to which Erekat was referring is one the Foreign Minister wrote to the European Union's foreign policy chief Catherine Ashton in August of 2012.
In the letter, Liberman wrote that Abbas is an obstacle to peace and does not act in the interests of his own people.
He also wrote that Abbas should be replaced because he "apparently is uninterested or unable... to reach an agreement which would bring an end to the conflict." 
"Abbas does not represent the general Palestinian interest (for example, he has repeatedly postponed the democratic process of elections in the PA.) nor even the interest of his constituents in the West Bank. The Palestinian Authority is a despotic government riddled with corruption," Liberman wrote.
He also told Ashton that instead of taking positive steps toward speaking with Israel, "He is creating a culture of blaming Israel for delaying the [peace] process, while attempting to achieve advantages without negotiation via blackmailing and ongoing to attempts to internationalize the conflict."
(Arutz Sheva's North American Desk is keeping you updated until the start of Shabbat in New York. The time posted automatically on all Arutz Sheva articles, however, is Israeli time.)