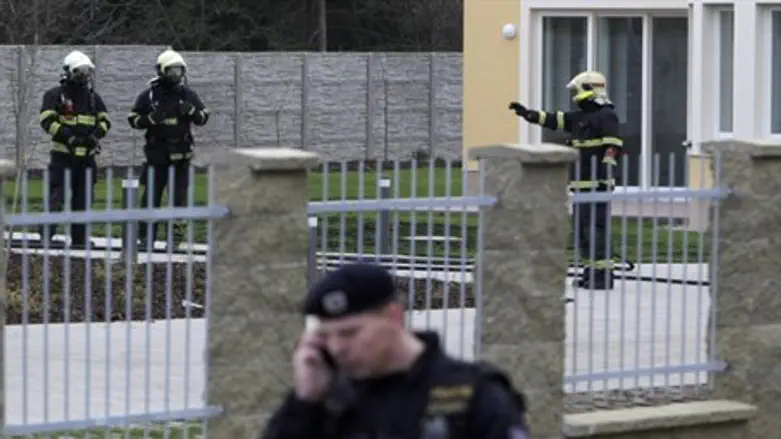 Scene of Prague blast
Reuters
An illegal arms cache was found Thursday in the home of the Palestinian Authority (PA) ambassador to Prague, Jamal al-Jamal, who was killed there in an explosion the day before.
Initially the PA claimed his death was a "work accident," that occurred when he opened an old safe that had been untouched for 20 years. Apparently the safe was moved from an older embassy building to Al-Jamal's new apartment in the recently built PA embassy complex.
However, the PA later backtracked on its story, as a spokesman stated that the safe "was used on a daily basis at the embassy and it was opened and closed almost every day."
Czech police confirmed that arms, including heavy firearms, had been found at Al-Jamal's home; Czech newspaper Respekt added that the cache contained enough weapons to arm ten fighters.
The arsenal's existence was unknown to Czech authorities according to Channel 2, casting more doubt  on the activities on PA diplomats around the world.
PA Foreign Minister Ri'ad al-Maliki on Thursday claimed that Al-Jamal had opened the safe and asked his wife to bring him a pen and paper to write down what he saw in the safe. Al-Jamal then put his hand into the safe, setting off the explosive device.
Al-Maliki said the Czech police will release a full report on the incident on Friday.