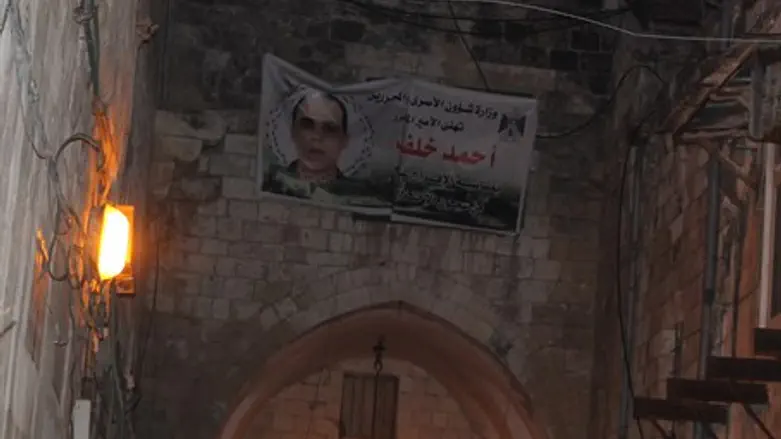 Poster with picture of Ahmed Khalaf.
Rabbi Ben Packer
Arabs have hung a poster featuring the picture of a released terrorist in the middle of the Old City in Jerusalem.
The picture is of Ahmed Khalaf, who was one of the 26 terrorists released by Israel this week as a "gesture" to the Palestinian Authority (PA).
Khalaf is an Arab resident of Jerusalem who holds Israeli citizenship. He was arrested in 1992 for his role in attempting to carry out a terror attack with two other terrorists. Besides Khalaf, four other Jerusalem Arabs were released this week.
Rabbi Ben Packer, a resident of the Old City, told Arutz Sheva that police had taken down the PLO flags that accompanied the poster, but left the poster itself in place. The poster was placed in the Arab Market after the barrier on the way to the Temple Mount.
"I felt completely demoralized. So close to the Kotel and to the Temple Mount. It shows how much further we really need to go. Personally, I resolved to work even harder to extend Jewish sovereignty to has much of our ancient homeland as possible," Rabbi Packer said.
Before the release of the 26 terrorists earlier this week, a protest was held outside Khalaf's home against the release of terrorists. Police had refused to give the demonstrators a permit for the protest, but the Supreme Court ruled that the protest could take place.
PA Chairman Mahmoud Abbas personally greeted 18 of the terrorists released by Israel to the PA-assigned areas of Judea and Samaria, promising that "there will be no final agreement with Israel until all prisoners are released."
Prime Minister Binyamin Netanyahu slammed the PA following the celebration over the terrorist release, saying, "Murderers are not heroes. This is not how you educate people to peace. This is not how you make peace."
Poster with picture of Ahmed Khalaf.
Rabbi Ben Packer