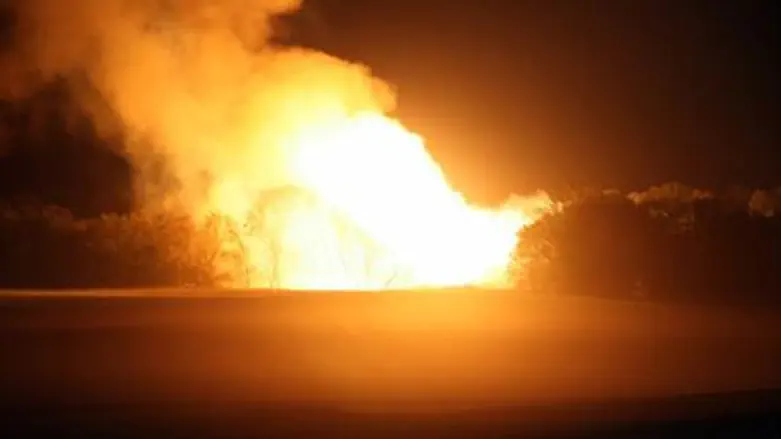 Illustration: Explosin
Flash 90
Terrorists in Egypt's restive Sinai Peninsula on Tuesday blew up a gas pipeline that feeds an industrial area in the region, security officials said, according to AFP.
The officials said there were no injuries in blast that targeted the domestic pipeline.
The gas pipeline in Egypt has been attacked more than a dozen times since the revolution that toppled former President Hosni Mubarak in 2011.
The initial attacks forced Egypt to halt gas supplies to Israel and Jordan. Since that time Israel has begun to become more dependent on its own natural gas, so Egypt's abrupt cancellation of its contract to sell gas to Israel a year ago was, while very expensive for Israelis in the short run, not as damaging as Israelis initially feared in the longer run.
Jordan currently continues to receive its natural gas supplies from Egypt, despite the unreliability of the pipeline. This past summer it was reported that the Jordanian government began holding talks to become the first to purchase natural gas from Israel.
The constant terror attacks in the Sinai have only increased since the Egyptian army ousted Islamist President Mohammed Morsi in July.
The group spearheading the attacks, Ansar Bayt al-Maqdis, is inspired by Al-Qaeda. It has claimed various attacks in and outside the Sinai peninsula, including the unsuccessful September 5 car bomb against interior minister Mohamed Ibrahim in Cairo.
Last week the group claimed responsibility for a deadly attack on a security building in the city of Mansoura killed 14 people and wounded more than 100 others.