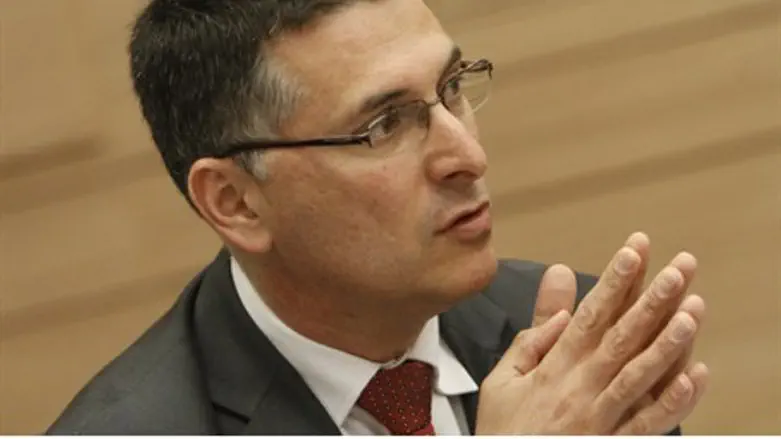 Gideon Saar
Flash 90
A different type of demonstration gathered Monday night: a show of support for a government official. 
Residents of South Tel Aviv and members of the Immigration Authority gathered outside the home of MK Gidon Sa'ar (Likud) Monday night. The cause: to show support and gratitude for the MK's work implementing the Infiltrator's Law to prevent more illegal immigration into the city. 
Under legislation passed on December 10, illegal immigrants entering Israel can be held for up to a year without trial. It was the latest in a series of measures aimed at cracking down on the numbers of African migrants entering the country illegally, which Israel says poses both a security and demographic threat.
The new law amends earlier legislation which allowed for immigrants to be held for up to three years without trial that was overturned by the Supreme Court in September.
Residents of working-class neighborhoods in southern Tel Aviv, as well as those of other cities like Eilat, said they have been suffering from endless harassment, fear and violence perpetrated by the many illegal Eritrean and Sudanese infiltrators who enter Israel to find employment and come to live in their neighborhoods. Many Jewish residents say they are terrified of leaving their homes and have begged the government to take action.
Detainees are held at special facilities, given basic needs and even benefits like healthcare and education, and allowed to leave the facility during the day as long as they report daily to special stations, according to the program. 
That is not enough, however, for the immigrants, whose cause has been championed by leftist "human rights" groups. The immigrants staged several marches earlier this month, claiming "suffering" and "violations to human rights" to the international media. The rally comes after left-wing and human rights groups slammed the MK for his role in enacting the law, which is meant to control Tel Aviv's skyrocketing crime rate. 
South Tel Aviv residents sought to fight that criticism Monday, by coming out in a public show of gratitude for the new legislation.
During the event, residents waved signs that read "Gidon Saar - we the people, thank you" and "Gidon Saar - our children thank you."
Orly Iogyr, Director of the Israeli Immigration Policy Center, said that "in light of unbridled incitement campaign against Sa'ar and open support for breaking the law, which we had witnessed in recent weeks from radical elements, we show that the sane majority in Israel support the government's efforts to shore up confidence and personal rule of law cities Israel."
"We call on the Minister of the Interior not to give in to pressure from minorities and continue to do more to return illegal infiltrators to their home countries."