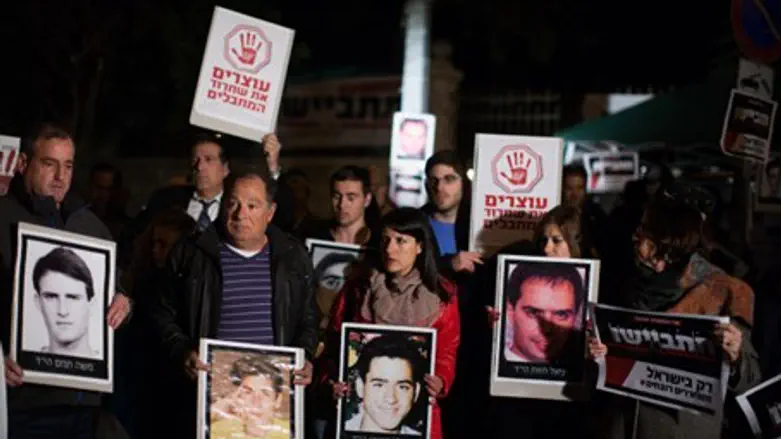 Protest against terrorist release, December 2
Flash90
Families who have lost loved ones in terror attacks, along with activists from the Yisrael Sheli organization, will protest Monday outside the home of terrorist Ahmed Khalaf, who is set to be released this week as a "gesture" to the Palestinian Authority. Khalaf is one of 26 terrorists to be released in the third round of terrorists releases Israel promised to undertake last summer, as the price for the return of the PA to the negotiating table.
Khalaf is an Arab resident of Jerusalem who holds Israeli citizenship, who was arrested in 1992 for his role in attempting to carry out a terror attack with two other terrorists. Besides, Khalaf, four other Jerusalem Arabs are set to be released.
The group will meet outside the Prime Minister's Office in Jerusalem and from there march to the American Consulate. They will then proceed to the home of Khalaf, located in the Old City.
Jerusalem Mayor Nir Barkat visited the protest tent outside the Prime Minister's Office Sunday morning, and expressed his solidarity with those present, many of whom are members of families who have lost one ones in terror attacks, and have been holding a 24-hour a day vigil to protest the imminent release of the terrorists. "I came to express my pain and sorrow together with you," Barkat said. "All of us feel your pain and identify with your suffering, regardless of the decision of the government to free these terrorists," he said.
"We hear your voice clearly," Barkat said. "The message is clear, and no one can debate or disagree with it. Of course, the municipality will do whatever it can to encourage this protest, as it is a basic democratic right."
In response to a question by a reporter from Arutz Sheva, Barkat said that he could not say right now whether or not he would remove the terrorists' Jerusalem residency permit. "I do not want to discuss this with the media," he said. "These are matters for discussion with the government."