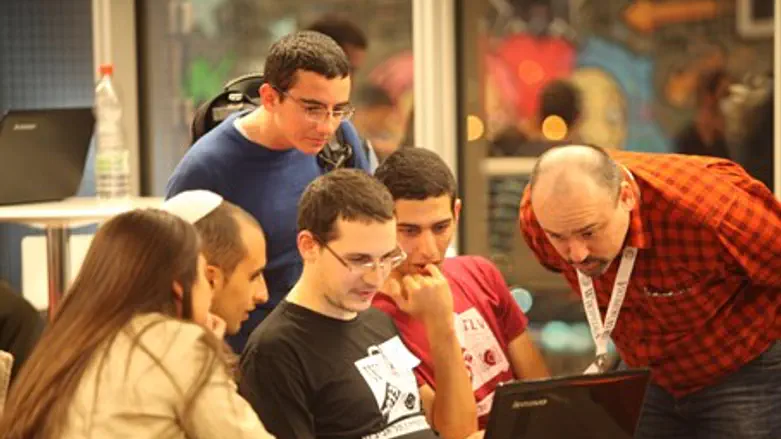 Great minds: Wikimedia Israel "hackathon", De
Daniel Bar-On/Wikimedia Israel
Eighty computer professionals gathered in Tel Aviv at week's end, for a noble purpose: to improve the accessibility of Wikimedia - the free content giant behind Wikipedia - for Hebrew speakers worldwide. 
The event, dubbed a "Hackathon," which began at 10:00 a.m. Thursday and lasted 11 hours, was held in the Electra Tower in Tel Aviv. The participants included independent programmers, hobbyists, hi-tech professionals, computer specialists from Israeli academia, IDF personnel and regular Wikipedia users.  
All present were divided into working groups, who then dealt with bug fixes, developing games, developing technical infrastructure and learning from business dealers proficient in Wikipedia technology. 
Much of the day focused on new mapping technology. For example, one application allows users to see which articles about locations near them lack pictures, so that anyone with a mobile phone can add an illustrative photo instantly.
Some are aimed for a different audience. Another app - designed for high school students - converts Wikipedia articles into instant powerpoint presentations. 
Amir Aharoni and Oren Buchman, Development Managers for Wikimedia Israel, spoke to Arutz Sheva at the event. 
"Here, we see people who want to give something back to Wikipedia - some of their knowledge or talent," Buchman stated. 
Some of the new projects are extensive, Aharoni explained. While the Wikipedia community worldwide relies on thousands of ordinary people to edit the site daily, more technical projects - e.g. to introduce a new software system - need expert programming.
"We need people to come in and put in what they see is problematic and fix it," he explained.