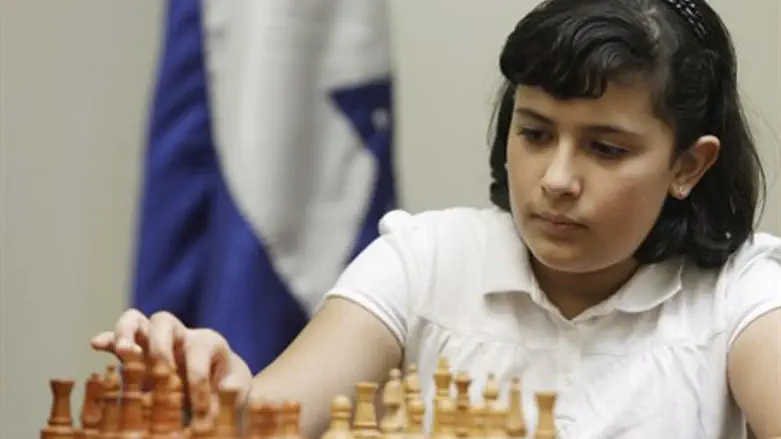 Chess, in the Knesset (file)
Flash90
The Israeli team in the under-18 division of the World Youth Chess Championship has been forced to do so anonymously, according to The Washington Times. 
The event, which is being held in the United Arab Emirates city of Abu Dhabi, features the team not under the Israeli flag - but under the ambiguous listing of the Federation Internationale des Echecs, or World Chess Federation. 
As Maariv noted, Israel boys aged 16 to 18 and girls 10 and 14 traveled to Abu Dhabi for the competition, accompanied by their parents.
Israel hesitated to send them to the competition because of geo-political tensions, but finally decided to participate in the competition.
One of the girls attending is Anastasia Waller, who two months ago won the European championships for chess players up to age ten. Waller beat Deputy Foreign Minister Ze'ev Elkin in a chess game held in October in the Knesset. 
Chess News, who originally broke the story, slammed the move. "It is a very unfortunate precedent for the World Youth, and unheard of until now," the site wrote. 
Sports boycotting of Israel has been an unfortunate phenomenon over the past several years.
In August, the International Tennis Federation (ITF) fined the Israeli team for the Davis Cup, after they refused to play a match scheduled on the holy day of Yom Kippur. While the ITF never reversed the decision outright, the ITF later punished Tunisia for using the competition as a means of boycotting Israel.
In 2009 Israeli tennis player Shahar Peer was denied entrance into the United Arab Emirates in 2009 to play in the Dubai tennis championships.