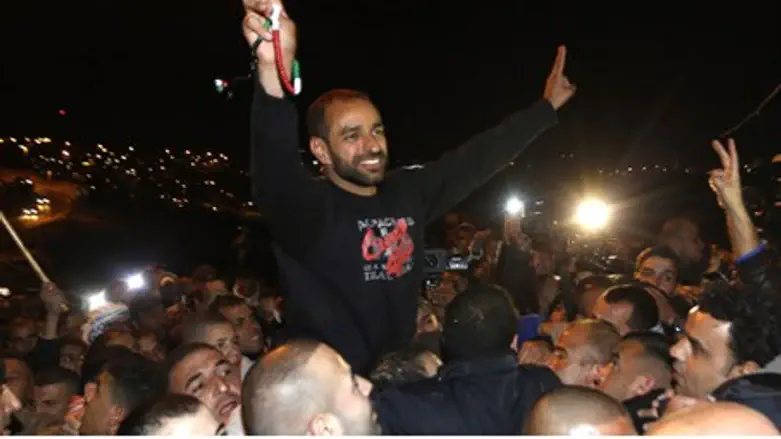 Freed hunger striking terrorist Samer Issawi
Flash 90
A government committee is set to meet Thursday to discuss the names of terrorists Israel will be releasing from its prisons next week, in the third batch of releases Israel committed to over the summer as the price for luring Palestinian Authority Chairman Mahmoud Abbas back to the negotiating table. The release of 20 terrorists, set for Sunday or Monday next week, is the is the third of four installments in which 104 terrorists were promised to go free during the 9 month peace talks led by U.S. Secretary of State John Kerry.
According to reports, Israel is "linking" construction in Judea and Samaria to the terrorist release. In the coming days, the reports said, Prime Minister Binyamin Netanyahu will announce the issuance of permits and tenders for the construction of new homes in Judea and Samaria.
According to Netanyahu, the U.S. agreed to sponsor the peace talks on the condition of an Israeli commitment to release terrorists, and did not demand that Israel declare a building freeze prior to the talks.
The names of the terrorists will be released 48 hours before they are actually released, in order to allow families and groups opposed to the release to petition against it. Working with the Almagor organization, several families whose loved ones were murdered by the terrorists likely to be released said they would set up protest tents outside the government's Jerusalem headquarters when the vote to release the terrorists is taken by the cabinet next week.
Opposition to the release has also risen among Knesset members, who say that, given the uptick in terror attacks in recent days, this is no time to be releasing terrorists.
Meeting with bereaved mothers and a mixed group of MKs on Wednesday, Deputy Defense Minister Danny Danon (Likud) expressed his opposition to the upcoming release.
"I call on the Prime Minister to reconsider the release of terrorists given the recent terror attacks," Danon said. "In a normal country in which a bus blows up on Sunday, a police officer is stabbed on Monday, and a worker fixing the security fence is shot to death on Tuesday, terrorists would not be freed the following week as a 'gesture,'" he said.