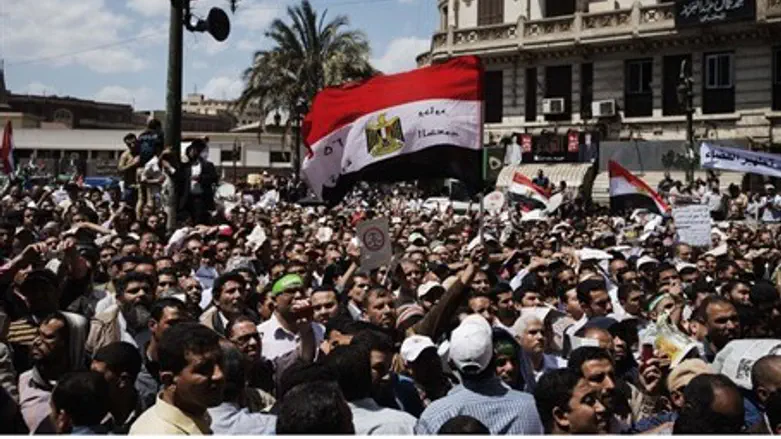 Muslim Brotherhood supporters
AFP photo
A senior leader of Egypt's Muslim Brotherhood blasted on Wednesday night the decision by Egypt's interim government to declare the organization a "terrorist group".
Speaking to AFP, Brotherhood member Ibrahim Munir made clear that the Islamists in Egypt would continue with their near-daily demonstrations despite the blacklist.
"The protests will continue, certainly," said Munir, a member of the group's executive council who is in exile in London, denouncing the government's latest move as "illegitimate."
"This is an attempt to frame the Brotherhood," he claimed.
Wednesday's designation of the Muslim Brotherhood as a terrorist organization came one day after a deadly attack on a security building in the city of Mansoura killed 14 people and wounded more than 100 others.
"The government has decided to declare the Muslim Brotherhood movement a terrorist organization," read a statement by Egypt's government quoted by AFP.
"Members who continue to belong to this group or organization following the release of this statement will be punished according to the law," warned the statement.
Social solidarity minister Ahmed al-Borei was quoted as having said the government would ban all the Brotherhood's activities, including "protests."
Tuesday's attack was claimed by Ansar Bayt al-Maqdis, a Sinai-based Al Qaeda-inspired group which has claimed various attacks in and outside the Sinai peninsula, including the unsuccessful September 5 car bomb against interior minister Mohamed Ibrahim in Cairo.
The Brotherhood has denied any connection to terrorism in Egypt. In an email to Al Jazeera, the group stated that "The Muslim Brotherhood considers this act as a direct attack on the unity of the Egyptian people and demands an inquiry forthwith so that the perpetrators of this crime may be  brought to justice".
Nevertheless, interim Egyptian authorities have long claimed a link between the Brotherhood and the string of bloody attacks which followed the ouster of Muslim Brotherhood president Mohammed Morsi.
The Muslim Brotherhood is already the subject of a court ban by an Egyptian court. Egypt has also frozen the assets of senior leaders of the movement and has arrested dozens of its members since Morsi's ouster, including most of its leadership.