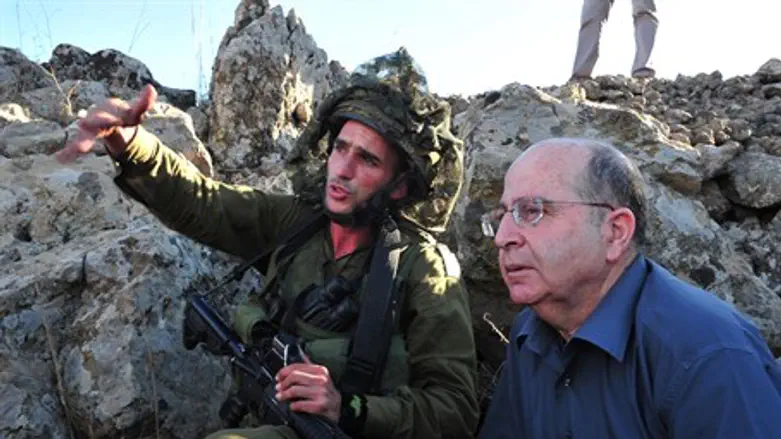 Defense Minister Moshe Yaalon
Flash 90
Defense Minister Moshe Ya'alon made statements Wednesday indicating that the government may be reconsidering releasing more terrorists, according to Maariv. 
"We are not happy with the prisoner releases," Yaalon remarked, speaking from an army training exercise of the Givati Brigade. "We are now before the third [terrorist] release [. . .]  we will decide if - and whom - to release." 
Earlier Wednesday, protests against the upcoming release continued, as demonstrators and bereaved families gathered outside the Prime Minister's residence in Jerusalem. 
A total of 104 terrorists are due to be released as a condition of ongoing negotiations between Israel and the Palestinian Authority. But after a wave of terrorism over the past several days - and a general upswing in terror this year, which has been linked directly to the talks by Israel's Security Agency - many Israelis have had enough. 
Ya'alon also connected the talks to the rise in attacks. 
"Judea and Samaria has not been quiet," he stated. "We call this an 'atmosphere of terror' and it is due to the Palestinian Authority's incitement against Israel. The statistics speak for themselves: in 2012 we saw a decline in terror attacks, but in the past several months we have seen a rise in terror attacks."
"This happens every time issues between Israel and the Palestinian Authority are addressed," Ya'alon concluded. "[Negotiations] are a result of the incitement, and it has everything to do with the political process.
Israel has seen five consecutive days of violence this week. Tuesday, a Gaza terrorist fatally shot 22-year-old Salah Abu-Latif of Rahat, a civilian IDF employee who was working on repairs to the Gaza security fence. The IDF began its response by hitting 6 terror targets in Gaza.
On Monday, a police officer was stabbed at the Adam checkpoint north of Jerusalem and later lost a kidney during medical treatment that saved his life.
On Sunday, terrorists detonated a bomb on a bus in Bat Yam south of Tel Aviv. One was injured as driver and passenger alertness prevented much larger casualties.
On Saturday and Friday IDF forces clashed with terrorists on the Gaza border, as the terrorists threw rocks, fired mortars and tried to plant explosives on the security fence.