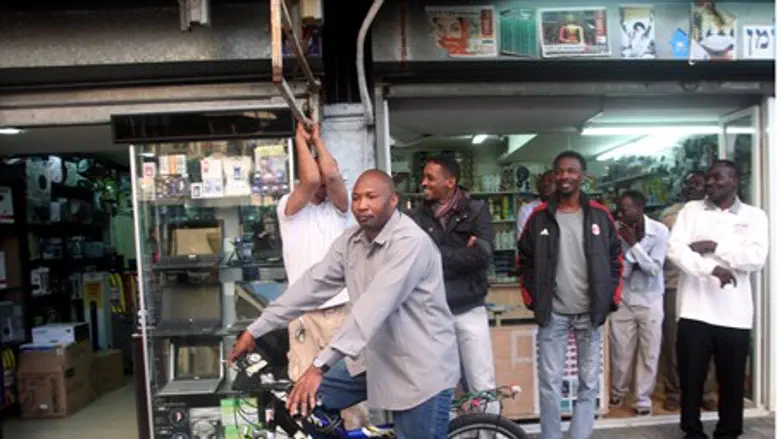 Illustration: African immigrants in Tel Aviv
Flash 90
Prime Minister Binyamin Netanyahu addressed the highly publicized infiltrators' march on Jerusalem in his weekly cabinet meeting Sunday.
"Illegal migrants cannot be allowed to take the law into their own hands," Netanyahu stated. "We will enforce the law and we will deport them according to law." 
Residents of southern Tel Aviv, Eilat, and many other cities have been suffering from endless harassment, fear and violence perpetrated by the many illegal infiltrators who enter Israel to find employment and come to live in their working class neighborhoods.
To fight the illegal immigration, Israel recently approved an amendment to the law to prevent infiltration of illegal immigrants, which allows police to jail illegals for up to 12 months in special detention facilities.
The illegal immigration issue has escalated considerably over the past week, in light of a protest march started by illegal migrants detained at the Holot facility in the Negev. 
While the immigrants there were given health benefits, a full education, accommodations, meals, and even the chance to leave the facility during the day, several hundred escaped and began marching to Jerusalem last week, protesting "human rights violations." 
Netanyahu addressed claims by leftist groups Sunday, stressing the need for Israel's security.
"It must be understood that the State of Israel cannot absorb those seeking work. While we certainly treat genuine refugees with respect and uphold our obligations under the international commitment on this issue, we cannot allow an open border for illegal labor migrants from Africa or any other place," he stated. 
"We will not allow this. We blocked illegal migration and we are committed to deporting those who succeeded in migrating here before we blocked the border, and we will carry out this commitment, if not down to the last migrant then certainly regarding most of them."
"This is both our intention and our mission," the Prime Minister concluded.