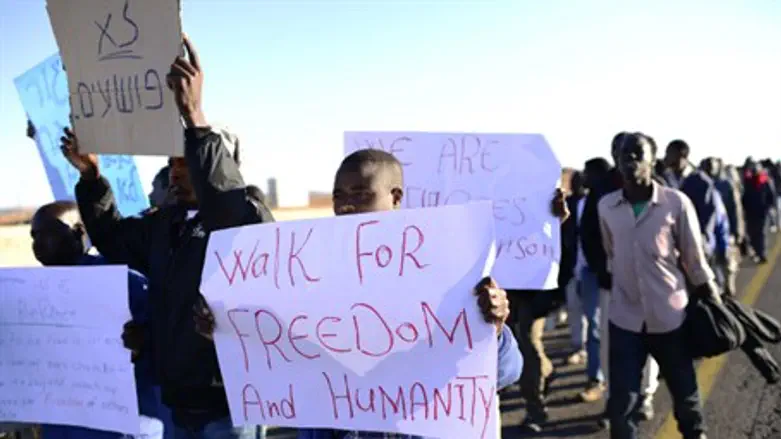 Illegal aliens march through Jerusalem, Decem
Flash 90
A massive brawl broke out on Saturday during a visit by the Eritrean ambassador to Israel to the northern part of the country.
The ambassador attended a gathering in a kibbutz near the Kinneret (Sea of Galilee) where he gave a speech. As he was speaking, an argument broke out among Eritreans who were in the crowd and who then began attacking one another.
The argument was between supporters and opponents of the current government in Eritrea. As the fighting escalated, some of the Eritreans tried to attack the ambassador, who was taken by police officers to a safe location.
In order to restore order, the officers had to fire in the air. 11 people were injured in the brawl and were taken for treatment at the Poriya Hospital in Tiberias. Police arrested many of those involved in the fight.
Eritreans are among the many illegal aliens who have infiltrated into Israel from Africa in recent years, mostly through the border with Egypt.
Residents of southern Tel Aviv, Eilat, and many other cities have been suffering from endless harassment, fear and violence perpetrated by the many illegal infiltrators who enter Israel to find employment and come to live in their working class neighborhood.
Eritreans have been involved in some brutal crimes against Israelis, including a recent incident where five Eritrean men pulled a man out of his car in Tel Aviv and beat him senseless in front of his family.
Israel has been fighting the illegal infiltration by building a security fence along the border with Egypt, a fact which has helped in stopping the endless flow of infiltrators.
The problem, however, remains with the illegal infiltrators who are still in Israel. The United Nations has stated that they cannot be sent back to Eritrea, saying the situation in that country is too dangerous.
Israel recently approved an amendment to the law to prevent infiltration of illegal immigrants, which allows police to jail illegal migrants for up to 12 months in special detention facilities.
In response, some 200 illegal entrants to Israel ran away from the special open facility in Holot in southern Israel and protested in Jerusalem. Protesters said the open facility, which they must return to each night, is essentially a prison. Many accused the government of racism.
The illegal entrants argued that they should be given refugee status. Those illegal entrants who Israeli authorities recognize as refugees are allowed to work in the country and are eligible for benefits, but authorities argue that the majority are simply economic migrants and not eligible for refugee status.
Police dispersed the rally. There were clashes between police and protesters and two protesters were injured.
Most of the roughly 60,000 illegal immigrants from Africa currently living in Israel do not have refugee status. Nearly 500 of them have been ordered to spend nights in the Holot facility.