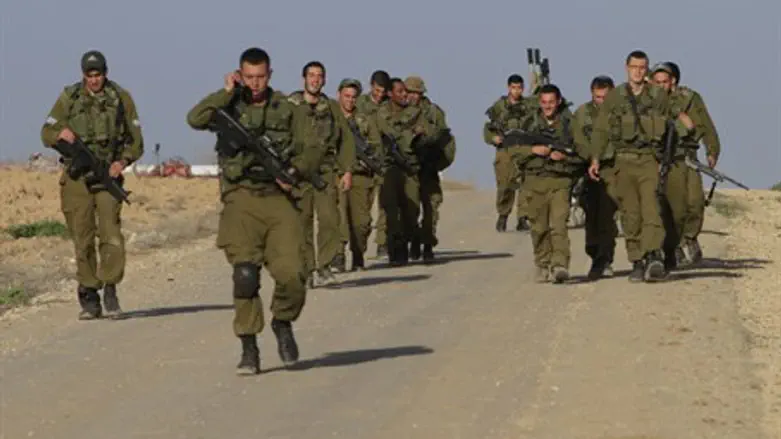 IDF on the Gaza border (file)
Flash 90
IDF forces foiled a terror attempt from Gaza on Saturday, shooting and wounding a 22 year old terrorist who was trying to place an explosive on the border.
According to the IDF: "this morning terrorists attempted to conceal an explosive device in order to attack IDF soldiers who operate in the proximity of the security fence in the southern Gaza Strip."
Ashraf al-Qudra, a spokesmen for terrorist organization Hamas's emergency services, told AFP the terrorist was shot east of the Gaza town of Khan Yunis and moderately injured.
Local Gazans claim the incident happened when the man and several others approached the security fence while they "were hunting birds."
The IDF reports that soldiers called on the group to stop and fired warning shots into the air as per army protocol. When their warnings went unheeded, they proceeded to fire "towards the lower extremities of one of the suspects, identifying a hit."
The incident came just a day after clashes on Friday, in which terrorists threw rocks at soldiers by the border near Beit Hanun and fired a mortar which, according to reports, hit the Shaar HaNegev regional council.
When the terrorists approached the security fence to cross it on Friday, ignoring soldier's orders to halt, the IDF opened fired and killed a terrorist.