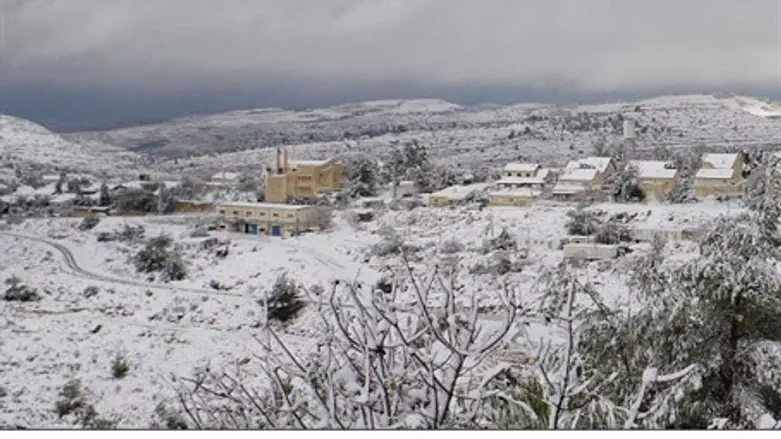 Samaria under a blanket of snow
Eli Turetsky
The harsh winter storm that hit Israel last week, bringing days of cold temperature and leaving tens of thousands in the dark, was not just a "weather event," according to Rabbi Mordechai Negari, Chief Rabbi of the Jerusalem suburb of Maale Adumim.
Like everything else, the storm was Divinely appointed, and if people suffered as a result of the "rains of blessing" that are supposed to be falling at this time of year, it is incumbent upon Jews to ask why G-d would allow that suffering. "We as G-d fearing Jews believe that everything comes from Heaven," he told Arutz Sheva. "We cannot just look at the storm as a natural disaster."
The reason that G-d caused suffering to Jews in Israel, said Rabbi Negari, is because Jews caused suffering themselves. "They are taking money away from children, yeshiva students, and Torah institutions," he said. "The state was protected by Torah study, but they ignored this and now that protection has been compromised.
"They thought they would save the state money by cutting benefits to the poor and to yeshiva students, but now they will have to spend that money on paying for repairs to people whose homes were damaged in the storm," he said. "It will cost us billions of shekels. This should be a wake-up call to the leaders of the nation. They must think about what they are doing and take actions that will bring us blessing, not the opposite G-d forbid."
G-d, Rabbi Negari said, "constantly watches out for Israel. Would He do such a thing for no reason? Fortunately there was a great deal of charitable behavior and positive behavior during the storm, and the many rescue organizations helped others in need. And the storm came after a period of dryness." But the fact that the rain came in the form of a ferocious winter storm instead of in a more gentle manner must raise questions among Jews. "We must see this as a message from Above," he added.