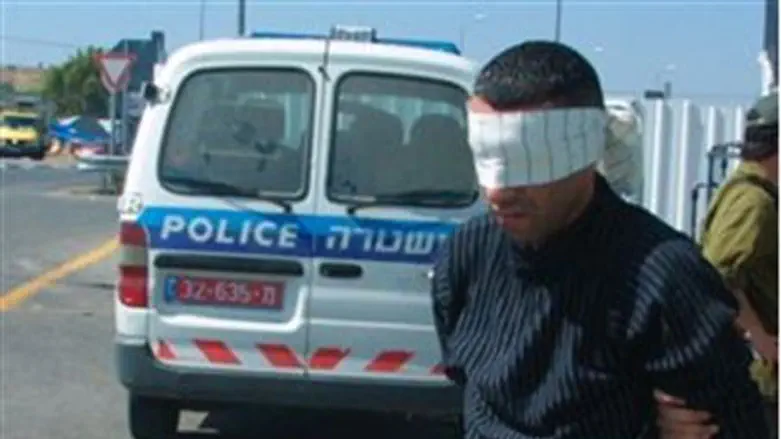 Terror suspect arrested (illustrative)
Israel news photo: Flash 90
IDF soldiers eliminated a terrorist in the Arab town of Kalkilya early Thursday. The armed terrorist opened fire at an IDF unit that was attempting to apprehend another terrorist, and soldiers shot back, eliminating the shooter. Soldiers discovered several weapons and a large amount of ammunition on the terrorist's body.
Arabs rioted as the soldiers attempted to arrest the suspect, firing handguns and throwing hand grenades. No soldiers were injured in the rioting or shooting.
On Wednesday, IDF troops eliminated a terrorist in Jenin and wounded five others as Arabs rioted when soldiers attempted to apprehend a terror suspect. The clashes broke out after Israeli special forces came under fire after being exposed in the course of an undercover operation to arrest local Hamas commander Jamal Abu al-Haija. No IDF soldiers were injured in that operation either.
Both Kalkilya and Jenin are located in western Samaria, adjacent to the 1948 armistice line. Both are in Area A, under Palestinian Authority civilian and security control.
Besides arresting terrorists in Kalkilya and Jenin, IDF troops arrested eight other terror suspects. No security incidents were reported in the course of their apprehension. All suspects are being questioned by security officials Thursday.