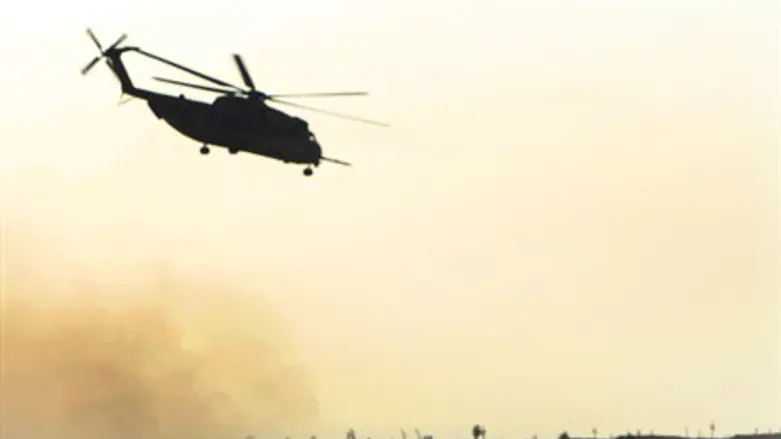 Military helicopter in Sinai (illustrative)
Flash 90
Egypt's military has arrested a jihadist suspected of involvement in an ambush that killed 16 Egyptian soldiers near the border with Israel last year, an army spokesman said Tuesday, according to AFP.
Silmi Mohammed Masbah was arrested Monday in Sinai and is allegedly a member of Ansar Beit al-Maqdis, an Al-Qaeda-inspired group operating in the restive peninsula, said military spokesman Colonel Ahmed Ali.
Ali said 20 other jihadists were arrested with Masbah but they were involved in other attacks on security forces.
Masbah, known as Abu Khalid, was involved in the August 5, 2012 ambush on an Egyptian guard post in the town of Rafiah near the border with Israel that killed 16 soldiers, Ali said, according to the AFP report.
Ansar Beit al-Maqdis has claimed attacks in and outside the Sinai peninsula, including the unsuccessful September 5 car bomb against interior minister Mohamed Ibrahim in Cairo.
It also claimed last month's assassination in Cairo of police Lieutenant Colonel Mohamed Mabruk, who was involved in an ongoing crackdown on Islamists in Egypt.
The group has openly denounced the Egyptian army as "an enemy of Allah" because of its crackdown on Sinai terrorists.
The Sinai has become increasingly lawless since the fall of former president Hosni Mubarak in February 2011, and the terror attacks have only increased since the removal of his successor, Mohammed Morsi.
The Egyptian armed forces have launched large scale military operations against terrorists in Sinai in an attempt to suppress the insurgency. The terror groups have hit back - a torrent of attacks by gangs of Al Qaeda-inspired Islamic terrorists have killed many Egyptian soldiers and policemen since Morsi's overthrow.