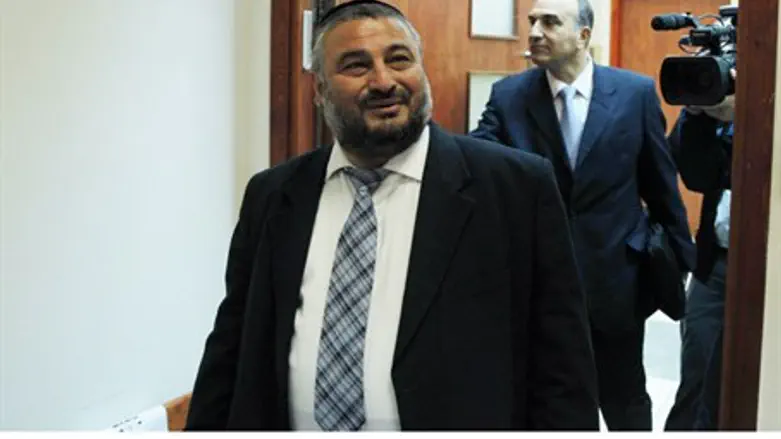 Moshe Abutbul (illustrative)
Flash90
Moshe Abutbul (Shas), mayor of Beit Shemesh, has filed a formal complaint to the police regarding alleged incitement against him. 
Abutbul was accompanied on his way to file the police report by Yelena Koniansky, party chairman of the Beit Shemesh branch of Yisrael Beitenu. Koniansky also filed a complaint regarding incitement, after threats were allegedly made against her and her party for entering into a coalition with Abutbul. 
Sources close to the controversial politician stated that Abutbul handed the police reams of material from the internet, and specifically from Facebook, with hateful comments made against him after allegations of fraud surfaced in the aftermath of Beit Shemesh's municipal elections.
Some of the comments also targeted the general hareidi-religious population, who rallied behind Abutbul during his election campaign. 
"There can not be such agitation in Beit Shemesh against the public and elected officials," said Abutbul, urging police to address the problem immediately and without compromise.
"Words are capable of murder," he clarified, and called on the public in all sectors to act with restraint and mutual respect.
Hearings first began in the Beit Shemesh municipal election case earlier this month. Abutbul and other party members have been accused of a large-scale fraud operation, after multiple complaints were filed by hundreds of residents of the city.
Voters claimed that they were told at voting booths that others had already voted in their names. Others said that their votes were discarded behind ballot boxes, and that registered votes were made on behalf of residents who are live outside of Israel. A police raid revealed at least 200 fake identity cards used to vote for Abutbul during the election process. 
Abutbul has expressed confidence during the hearings, stating that "the law has spoken" for his democratic election before the first proceedings even began. Abutbul's camp has admitted that "fraudulent practices in general" were used during the elections process, but has not admitted any personal involvement or wrongdoing. 
Attorney General Yehuda Weinstein, meanwhile, has called for a revote in light of the hearings.