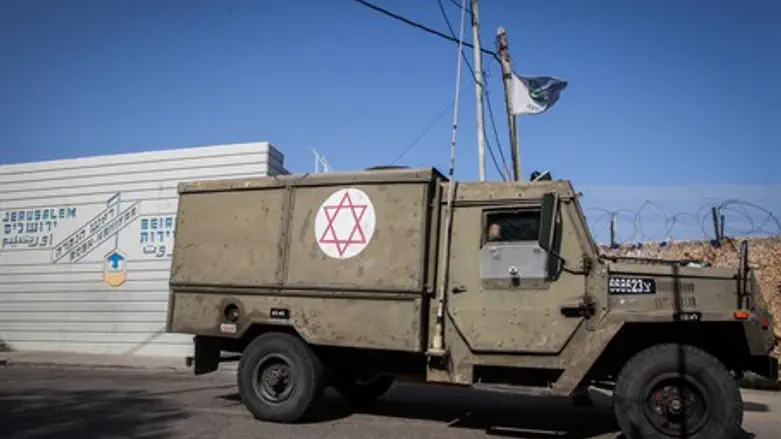 Israel-Lebanon border
Flash 90
A Lebanese soldier acting on his own accord was behind the shooting and killing of an Israeli soldier on the border with the Jewish state, the Lebanese army said Monday, according to The Daily Star.
In a statement quoted by the newspaper, the military said the incident "was a result of an individual act by one of the soldiers and the military committee is investigating the issue."
It also noted that the army was coordinating with the UN Interim Force in Lebanon (UNIFIL) to address the repercussions of the incident.
"The leadership affirms its full commitment to UN Security Council Resolution 1701 particularly in terms of preserving stability in border areas, with the cooperation and coordination of the peacekeepers," added the statement, according to The Daily Star.
Lebanese Prime Minister Najib Mikati also said that the incident, near Rosh Hanikra was "an isolated incident of limited scope."
Speaking in a meeting with the UN's special coordinator for Lebanon, Derek Plumbly, Mikati clarified that the Lebanese soldier who shot Master Sergeant Shlomi Cohen had not been given orders to shoot and that he had acted independently.
The UN peacekeeping force in south Lebanon also said earlier Monday that the border shooting appeared to be "an individual action."
The UNIFIL statement came after a meeting it convened at its post near the Ras al-Naqoura border crossing, bringing together senior Lebanese and Israeli army officers.
In a statement UNIFIL said that the participants at the meeting "discussed concrete steps to strengthen the existing security arrangements along the Blue Line (border) to prevent the recurrence of such incidents."
Israel filed a protest with UNIFIL over the incident which it described as an "outrageous breach" of its sovereignty, and the IDF said it had "heightened its state of preparedness" and would maintain its "right to exercise self-defense".
Lebanese media reported that the unnamed attacker turned himself in Monday morning, after spending the night hiding in nearby woodlands.
Cohen was a resident of the northern Israeli city of Afula. He was laid to rest at a cemetery in the northern Israeli port city of Haifa on Monday evening.
In August of this year, four Israeli soldiers were wounded by an explosion some 400 meters inside Lebanese territory, in a blast claimed by Hezbollah.
Last week, Hezbollah blamed the assassination of a senior commander on Israel, despite two Sunni Islamist groups claiming responsibility.