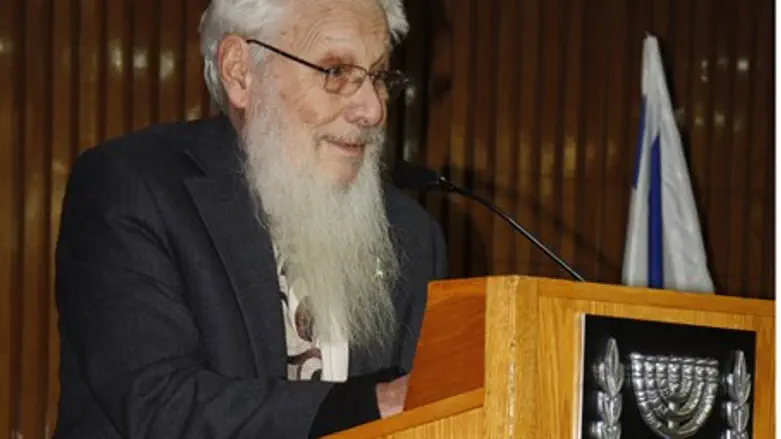 Professor Yisrael Aumann
Hillel Maeir
MK Shimon Ohayon (Likud Beytenu) said on Sunday that he will demand an urgent discussion both at the Knesset plenum and in the Knesset's Education Committee, over Haifa University's decision to refuse to award an honorary doctorate to Professor Yisrael (Robert) Aumann due to his pro-Israel politics.
Ohayon told Arutz Sheva that it was unacceptable that a university would make decisions based on political positions.
"Every university and research institution should foster scientific research and the only thing that should stand in the way of honoring an individual is a moral flaw or a criminal issue. Judging someone based on his political positions is extreme and extraordinary and should not be done in an academic institution," he said.
Ohayon added that Haifa University is an institution that is budgeted by the state and, as such, is committed to conducting its deliberations based solely on the academic contribution of different people and not according to political positions.
Professor Aumann won the Nobel Memorial Prize for Economics in 2005 for his work on conflict and cooperation through game theory analysis. However, despite his intellectual prowess the University has decided to reject the Professor for political reasons. 
At a hearing to discuss the candidacy last week, the director, Ami Ayalon, agreed with other board members not to award the title, citing concerns that "the Professor's politics are not in line with the University's values."
Among the board's concerns were remarks by Aumann in 2010 stating that "the most sensible solution" to the Israeli-Arab conflict is "a Jewish state and an Arab state, where the Jewish state is settled by Jews and the Arab state is settled by Arabs."
The University of Haifa, for its part, claims that the decision is not yet final. "The selection process for candidates for honorary doctorate is the process has several steps, which only ended up being published with the names of recipients and the reasons [behind the candidacy]," it stated. "The process is not yet over, and discussions along the way are internal and are not for publication."
The University has been the site of anti-Israel activity before. In 2012, during Operation Pillar of Defense, Arab students demonstrated in mourning not of IDF soldiers, but for downed terrorist Ahmed Jabari. The university later made a public statement against the incident and banned further student demonstrations. 
Earlier this year, terror victims' advocacy organization Almagor publicly spoke out against the university for providing legal aid to convicted terrorists and murderers.