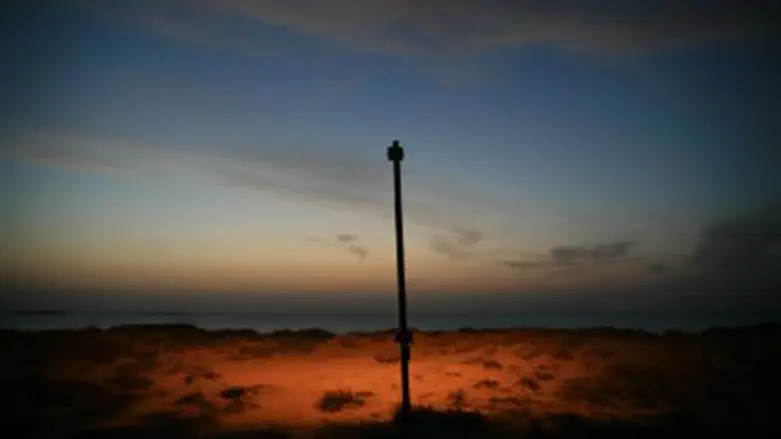 Northern border (file)
Israel news photo: Flash 90
IDF Master Sergeant Shlomi Cohen, 31, of Afula, was killed on Sunday evening after being hit by sniper fire near Israel's northern border with Lebanon.
The attack took place near Rosh Hanikra, in northwestern Israel, and was perpetrated by a soldier from the Lebanese army. A military source who spoke with Arutz Sheva said that the Lebanese soldier fired at least seven bullets at an IDF vehicle.
There have been unconfirmed reports that the IDF fired at "suspicious figures" or at a Lebanese army post after the shooting, possibly causing casualties.
At around 1:00 a.m. Monday, Lebanon's LBCI television said the IDF opened fire at the Lebanese General Security post at the Ras al-Naqoura border crossing. 
Lebanon's National News Agency (NNA) reported that a Lebanese Armed Forces soldier went missing on Sunday on the border with Israel, and then "appeared after hiding in a bush." Al-Manar TV, which is controlled by Hezbollah, said a single Lebanese soldier opened fire and that "contact with him was lost."
Cohen is scheduled to be laid to rest at 5:00 p.m. in the Haifa military cemetery. His family asked for no media coverage of the funeral.
Israel has filed a complaint with the UN over the incident, the IDF Spokesperson's Unit said in a statement.
"The IDF reserves the right to respond when and where it sees fit," the statement added.
Just this past Thursday, an IDF patrol came under fire in the northern Galilee, near the border with Lebanon. The soldiers returned fire.
No IDF soldiers were hurt in that incident.
In August, four Israeli soldiers on patrol were wounded in a blast 400 meters inside Lebanese territory, Lebanon's army and a UN peacekeeper in the border region said.
Hezbollah took credit for the explosion, its first such claim since the 2006 Second Lebanon War.
In early December, Hezbollah blamed Israel for the assassination of a senior official in the Iranian proxy militia, Hassan Hawlo al-Lakiss.
Israeli Deputy Defense Minister Danny Danon warned Hezbollah against attacking Israel, however. "If Hezbollah attacks Israeli territory our response will be firm and painful," Danon was quoted by army radio as saying following the accusations.
Hezbollah announced that al-Lakiss had been assassinated during the night at his house in the Hadath region, east of Beirut, and was quick to accuse Israel of carrying it out. "Direct accusation is aimed of course against the Israeli enemy which had tried to eliminate our martyred brother again and again and in several places but had failed, until yesterday evening," the Iranian-backed Shia Islamist group said in a statement.
An IDF soldier was shot dead by a sniper in Hevron three months ago. The soldier, 20-year-old Gabriel (Gal) Kobi of Tirat Hacarmel, was struck in the neck by a bullet, as he guarded the Avraham Avinu neighborhood near the Machpelah Cave in the city.
The shooter has not been found.
In August of 2010, IDF Lt.-Col. (res.) Dov Harari, a battalion commander, was killed, and Captain (res.) Ezra Lakia was badly hurt, in an exchange of fire between Lebanon Army and IDF forces.