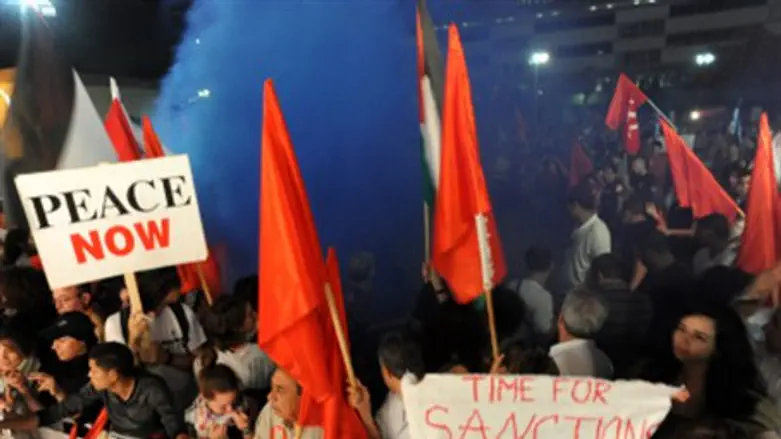 Peace now rally (file)
Israel news photo: Flash 90
An anti-leftist, anti-boycott bill which was discussed under the previous Knesset will come to the fore again Sunday, according to Maariv. The Knesset hearing will be headed by MK Ayelet Shaked (Bayit Yehudi/Jewish Home) and Robert Ilatov (Yisrael Beytenu). 
The bill has sparked controversy for imposing a 45% tax on foreign donations to leftist groups. The goal of the bill is to "reduce the involvement of foreign entities within the affairs of the state of Israel."
Groups affected by the tax would have to meet one of the following criteria: calling for the boycott, divestment, or sanctions (BDS) against Israel or Israeli citizens; calling for the prosecution of Israeli soldiers in international courts; denying that Israel is a Jewish Democratic state; incitement to racism; or supporting an armed struggle by an enemy nation or terror organization against Israel.  
If passed, the bill would affect some of Israel's biggest anti-Zionist groups, including Peace Now. 
Yariv Oppenheimer, director-general of the leftist group, fired at the initiative as an attack on freedom of speech. "The return of the 'Associations Law' is an attempt to initiate intellectual censorship and violate the freedom of expression," he stated Sunday.
"The vote is a test of the ideological loyalty of (Finance Minister) Yair Lapid and (Justice Minister) Tzipi Livni. There is no reason to keep them in the government if the bill passes," he continued. 
The bill first came under fire in 2011, after it was passed by the previous Knesset. Leftist groups petitioned the High Court against the law, on the grounds of unconstitutionality; the Prime Minister eventually froze the bill from advancing further through the legislative process.