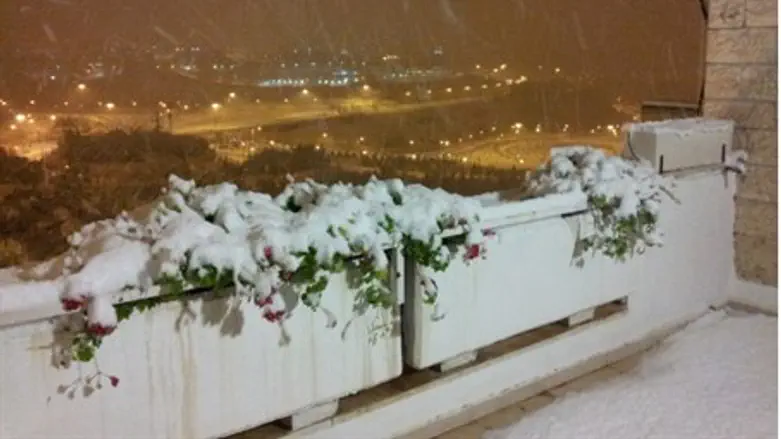 From the balcony in Ramot, Jerusalem.
Rachel Sylvetsky
Jerusalem Mayor Nir Barkat has enlisted the IDF and the Israel Police to help out the many drivers who have been stranded on the city's roads because of the snow.
On Thursday night, after the snowstorm which hit the capital early in the morning returned in full force and caused many road closures and traffic jams, Barkat contacted IDF Chief of Staff Benny Gantz and the head of the Jerusalem District of the Israel Police, Yossi Pariente, and asked them to help clear the roads of stranded cars and people.
Both men agreed to assist and have sent men and vehicles out to the roads.
The Binyanei HaUma (International Convention Center) has been turned into an emergency center, to which all stranded drivers will be taken.
Overnight, police and IDF soldiers will work to clear Highways 1 and 443, which connect Jerusalem to the coastal plain and were closed on Thursday evening, due to the snow.
Police have asked the public to refrain from trying to arrive in Jerusalem until the storm is over. Local residents are asked not to drive in private cars on the city's streets until they are cleared of the snow.
Schools and kindergartens will not open Friday in Jerusalem, the Etzion Bloc communities, the Eshkol Council, and in Elon Moreh, Itamar, Yitzhar, Har Beracha and Migdalim in Samaria.
The Meteorological Service said Thursday evening that occasional rain showers accompanied by thunderstorms can be expected Thursday night and Friday morning in northern and central Israel. Snow will fall in the mountains of the Galilee and northern Golan, in the central mountains, including Jerusalem, and in the mountains of the Negev.