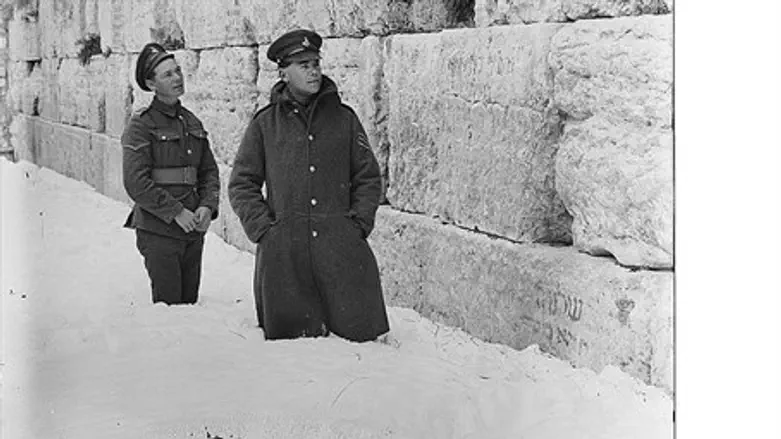 Snow at the Western Wall 1921
INN: L of C
Strong rain, winds and snow storms are hitting the Middle East this week.  And snow is falling today in Jerusalem, Hevron, Gush Etzion, the Golan and parts of the Galilee. We present here old pictures of snow in Jerusalem from the Library of Congress collection. 
The picture on the main page and to the right is of British soldiers at the Kotel in 1921. It is posted again below as programming constraints prevented the entire photo, showing the comparative height of the Kotel, the soldiers and the snow, from appearing on the main page.
Jerusalem under blanket of snow. View from the Christian Quarter showing the Church of the Holy Sepulchre, Mosque of Omar on the Temple Mount and Mt. of Olives. (circa 1900)

British soldiers at the Western Wall (1921)


Children of the "American Colony" (1921). These pictures were hand-colored and found in a Colony family album.
Children of the "American Colony" playing in the snow (1921)

"Snow-balling" on Jaffa Road in Jerusalem (1942)

Australian soldiers and Arabs "snow-balling" (1942)