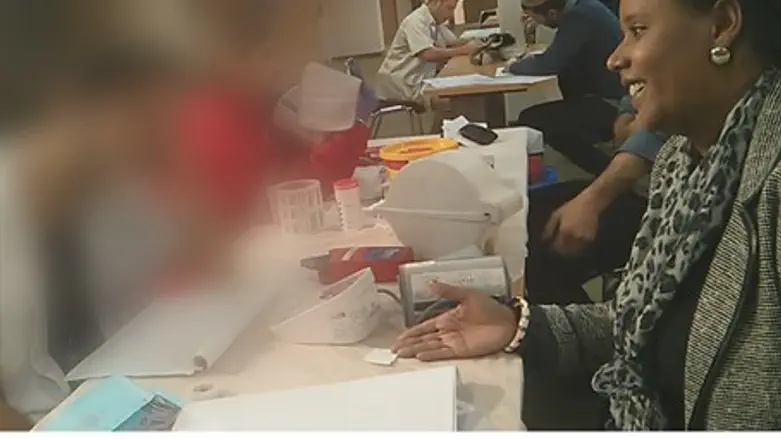 MK Tamano-Shata tries to donate blood
Israel news photo: PR photo
Rabbi Chaim Navon spoke out in defense of Magen David Adom (MDA) Wednesday night after the group came under heavy criticism for turning down a blood donation from MK Pnina Tamano-Shata (Yesh Atid) because she lived in Ethiopia as a young child.
Like MDA, the well-known educator and community rabbi in the city of Modiin, questioned MK Tamano-Shata's motives. "MK Tamano-Shata has been involved in the Health Ministry's discussion of blood donation policy for some time," he noted. "Which raises the suspicion that she might not have come innocently (accompanied by a camera) to donate blood, but rather to create a provocation."
He slammed the politicians who criticized MDA in wake of the incident. "How pathetic are the politicians who rushed to condemn… MDA's policy is well-known and public – why are they making an outcry now?"
Accusations of racism are not fair, he said. "Anyone who spent a certain amount of time in a country where certain diseases are widespread cannot give blood," he argued, adding, "If your child needed donor blood, would you want to take the risk?"
"Israelis of Ethiopian origin are wonderful people," he continued. "Just like those of British origin. And they don't take blood donations from the British in Israel, either, because of mad cow disease, which is much less common in England than AIDS is in Africa."
"Isn't there a British MK who'd like to cash in?" he joked.
MK Tamano-Shata was told she could not donate blood during an MDA blood drive in Knesset, due to the fact that she was born in Ethiopia and lived there until age three. MDA has a long-term policy of not taking donations from former residents of Ethiopia due to the relatively high rate of HIV/AIDS illness in the community.
Tamano-Shata expressed upset about the policy, noting that she has lived in Israel for decades and served in the army.
Following the incident, Knesset Speaker Yuli-Yoel Edelstein (Likud-Beytenu) expelled the MDA team from Knesset. MKs from across the political spectrum condemned the MDA policy, and Finance Minister Yair Lapid, the head of Yesh Atid, warned that "whoever needs to be fired over this, will be fired."