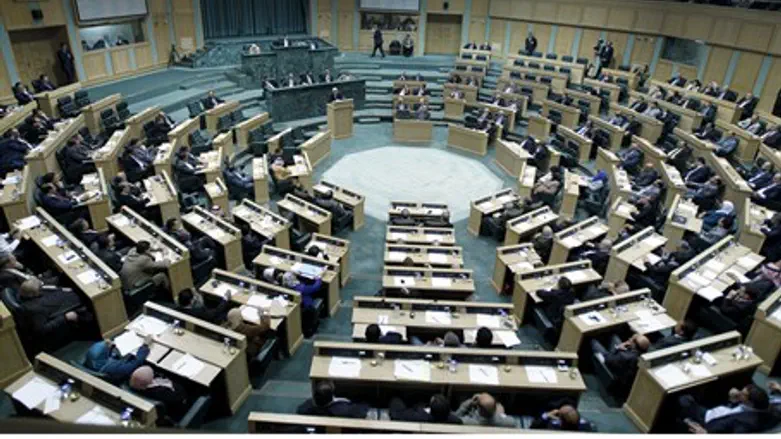 Jordan's parliament
Reuters
Jordan's parliament has adopted a bill which stipulates that violent action against Israel will not be considered a terrorist act, NRG/Maariv reported on Wednesday.
The Jordanian parliament, which was elected following the various "Arab Spring" revolutions in the Middle East and following pressure by the opposition on King Abdullah, is comprised mainly of representatives from Islamist parties who hold extreme positions against Israel.
Jordan and Israel signed a peace treaty in 1994. Jordan thus became the second Arab country after Egypt to sign a peace treaty with Israel.
Nevertheless, in recent months the parliament has shown increased hostility to Israel. In May, Jordan MPs unanimously demanded the government expel the Israeli ambassador from Amman as a punitive measure after detectives in Israel detained the mufti of Jerusalem on the Temple Mount.
A month earlier, Jordanian parliamentarians called for the release of Ahmed Daqamseh, a terrorist who in 1997 murdered seven Israeli students during a school trip. Daqamseh, who was a soldier in the Jordanian army at the time of the attack, was sentenced by a Jordanian military court to life in prison.
Following these two incidents, Jordan's Prime Minister Abdullah Nsur assured Israel, in an interview with Maariv, that the relationship between Israel and Jordan will remain stable.
At the same time, Nsur said that the relations between Israel and Jordan are directly related to the relations between Israel and the Palestinian Authority, adding that if progress is made in the peace talks, "Israel will instantly improve its relations with all Middle Eastern countries."
This week, Jordan was part of the three-way water-sharing initiative also involving Israel and the PA.
The pact, signed at the World Bank's headquarters in Washington, will see Jordan providing 50 million cubic liters of desalinated water to Israel's Red Sea resort of Eilat.
In exchange, the Jewish state will provide northern Jordan with the same amount of water from the Sea of Galilee.
It will also see Israel raising its annual sales of water to the Palestinian Authority by 20-30 million cubic meters a year, up from the current level of 52 million cubic meters.